What if Jesus lived today, and went CAMPING? I am sure he would easily convey the teachings of The Kingdom of God with a campfire, a coleman's lamp, and DEET.

But since Jesus did not teach specifically using camping as a spiritual metaphor I will get up off my BACK PEW and do my best to glean golden nuggets of God honoring truths while going on this little cartoon ... CAMPING TRIP. So come on, pack your sleeping bag, your fishing rod, fixings for s'mores and what ever else like as the Back Pew goes camping.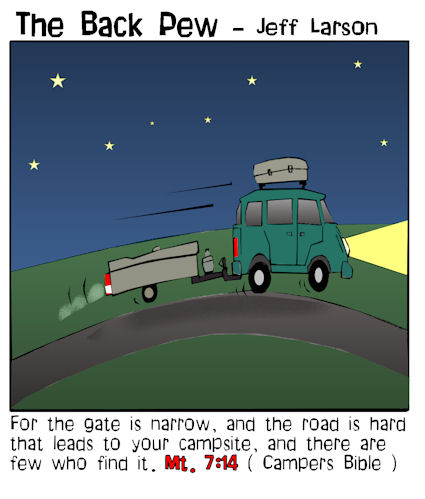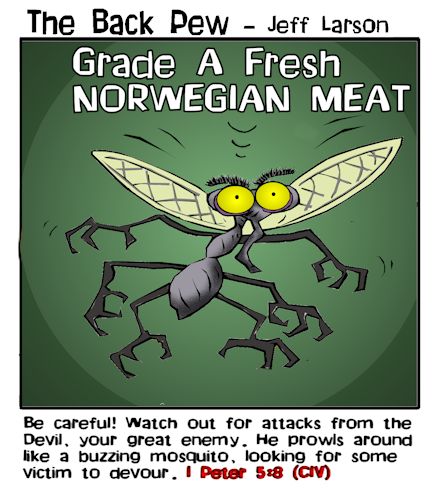 In the Beginning... the road to the campsite was void and darkness, and mosquitoes hovered over the face of the waters.

Then God said let there be light, and after a few smokey attempts with damp kindling a campfire was built by man.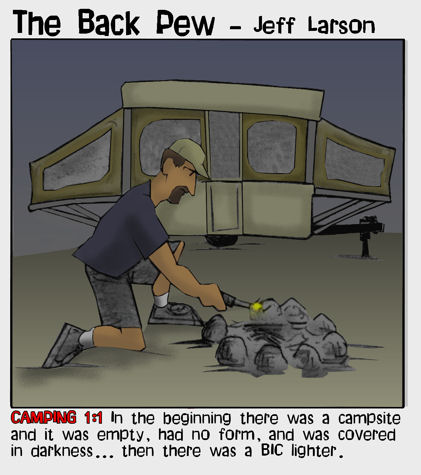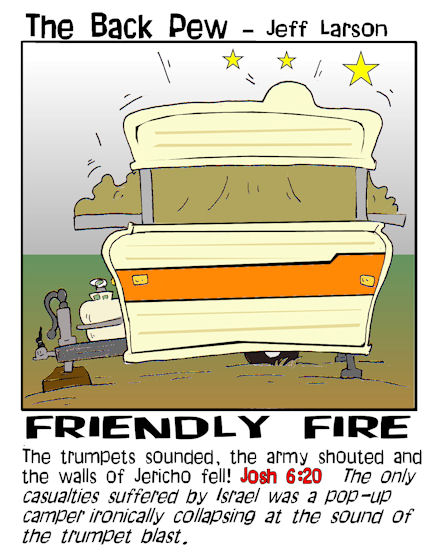 The Fall of Man!! Now it was decided it was not good for man to camp alone, so God provided a helper. And just like every woman since the original Eve in the Garden, camp woman was just what camp man needed but was afraid to ask for. She cooks, she cleans, and she helps with setting up the tent or pop up camper.

Of course just like Eve did not follow God's instructions to NOT eat the forbidden fruit, camp woman did not read the setup instructions for the pop up camper which resulted in THE FALL OF MAN or at least a temporary fall of the camper roof onto camp man.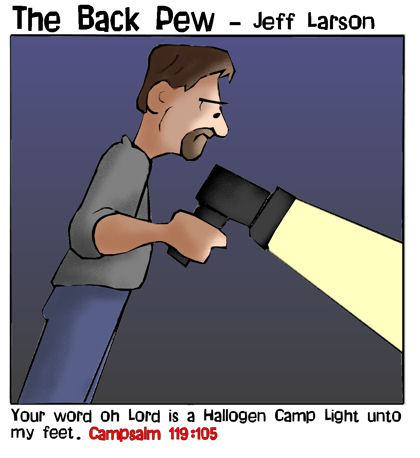 God is Faithful.. Throughout the pilgrimage of man recorded in our bibles we learn God's people were not always faithful to follow the well marked path to the promised land, but God in his infinite grace was always there with manna, water, and shelter in an otherwise dark and dangerous world. This is also true in the journey of camp man. God has provided him with light on the paths marked to the restrooms, the boat landing, and the beach,
When the people of Israel set up camp after their exodus from Egypt, they would take time to honor God with sacrifices that He required, and it was a pleasing Aroma for the Lord. This is also true of Camp Man who after setting up camp will set aside time to build a fire where the whole family can gather around gazing into the power, light, and warmth of a blazing CAMPFIRE. This is where camp man will roast hot dogs, and make s'mores for the family to feast until full. <pause> This also is a pleasing aroma to the Lord.

Umm.. Fire Good!
Also, this smokey fire altar helps ward of the enemies of the night. Mosquitoes much like we are taught about Satan, roar about (ok actually it is high pitch buzzing) seeking a soul to devour.. and the Racoons like a thief in the night will enter your campsite in the darkness to steal and attempt to kidnap the family dog. BEWARE! BEWARE!
This completes my Back Pew Camping Pilgrimage. Just like the Bible stories are full of life and lessons for each of us,
in the same way I have much still to learn from camping adventures with my family and plan on repeating my Camping Mecca
each summer after our Minnesota Glacial season subsides each year in LATE MAY.

May God bless each of you on your journeys whether you are a camper or not. May you also find comfort in the following
23rd Psalm for Campers and 23rd Deut for Campers.
The 23rd Psalm for Campers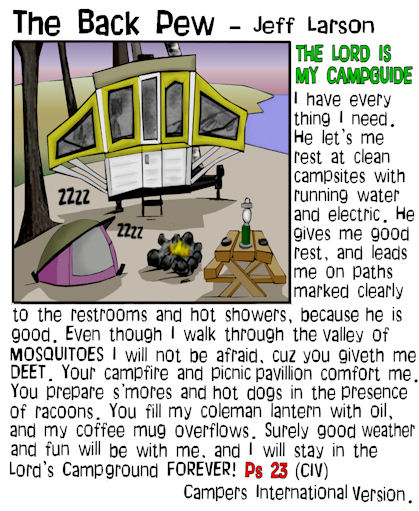 and

The 23rd Deut for Campers