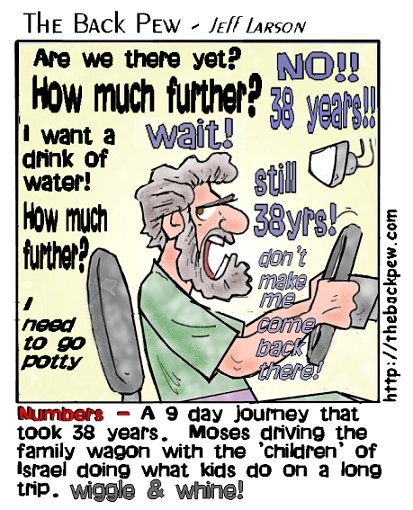 The book of Numbers is honestly at times a tedious book to read, BUT important as it chronicles God's faithfulness to an often ungrateful people of Israel. Due to their rebellious nature a 9 day journey to the promised land took 38 YEARS.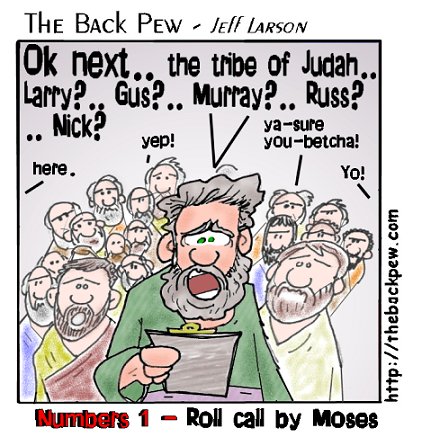 CENSUS: The book of Numbers starts out quite appropriately doing a ROLL CALL . I found it interesting whenever a census was taken the count only included men over the age of 20 who could serve in the army.
Are we there yet?
3: Fire Hazard
5: Say it don't spray it.


HUSBANDS AND WIVES
5:11-15 Jealous Husbands
5:21 Unfaithful women!!
11 Campfires
MANNA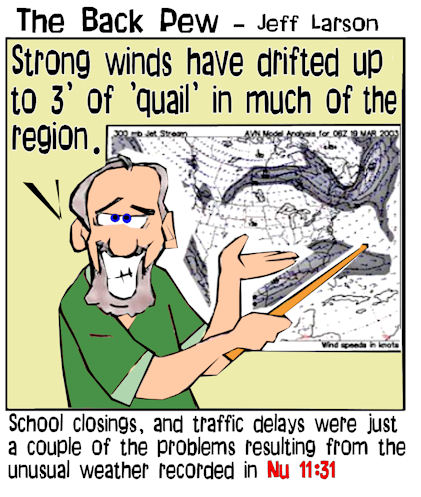 In chapter 11 is a continuation of the people whining. Freedom was I guess not appreciated. In the wilderness God had provided them with Manna, but they were tired of it and unapprciative so God was kind to them by sending a strong wind that blew in qual for the people to have meat.
11:5 Manna burgers?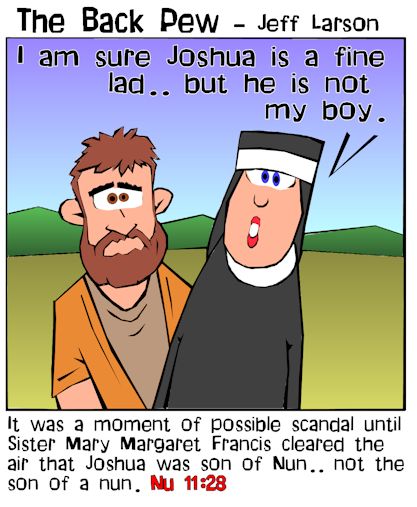 In 11:28 Jacob is introduced as the Son of Nun, not the Son of a Nun?
11:31 Crazy Weather?

MIRIAM and AARON
In chapter 12 Aaron and Miriam start complaining because Moses has a Cushite wife.


God was not pleased with their whining and so God made Miriam turn WHITE (v10). Moses asked God to heal Miriam and after 7 days outside the camp, Miriam was restored.

SECRET AGENT 007 X 12
13: The 12 spies are sent in to check out the promised land Canaan, and report back the ol' good news bad news findings. GOOD NEWS: (v 23) the land is flowing with milk and honey with .. a very nice Farmers Market. BAD NEWS: Only problem is the land is inhabited by a great people and the cities are fortified. Caleb who was one of the 12 spies was the only one who believed they should take the land. The other 11 spies were as they say in the spy biz.. CHICKENS.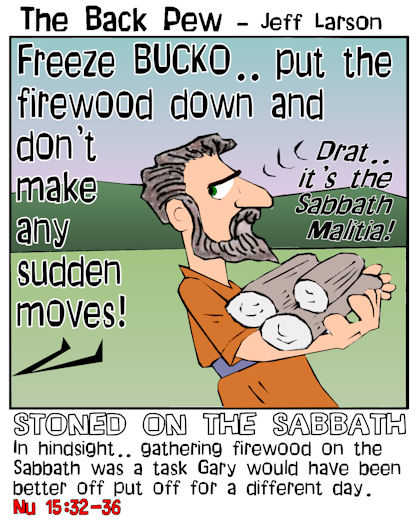 DON'T MAKE GOD MAD!
Chapter 15 tells the story (v 32-36) of a man who collected firewood on the Sabbath. He was arrested and stoned. On a side note, I grew up in a logging community in Northern Wisconsin and can't imagine the death toll of firewood Sabbath violators if this law was being inforced now.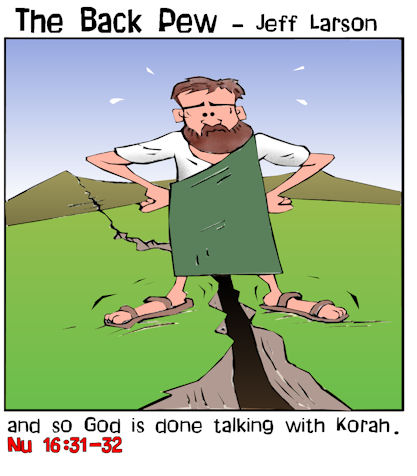 In chapter 16 Korah revolted against Moses with 250 men whining about being brought out of the 'good life' as Egyptian slaves to where they were now wandering in the wilderness. In response to their foolishness the ground opened up and swallowed Korah (v 31-32), and then fire came down from the Heavens to consume his 250 (now toasty) men (v 35)


HOW NOW RED COW
19:1-5 Red Cow Sacrifice
OH JUST GREAT!
20:12 Moses strikes the rock
20:24 Aaron gets bad news
21:5 Got Milk?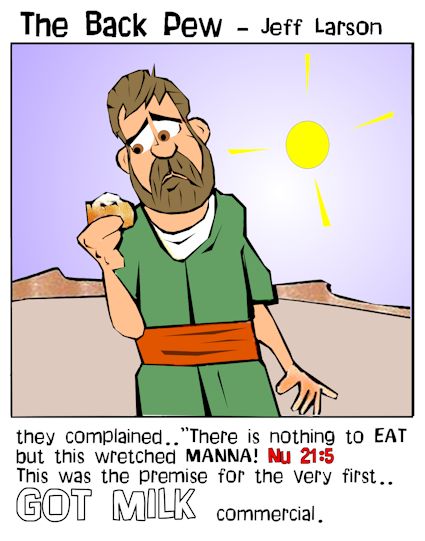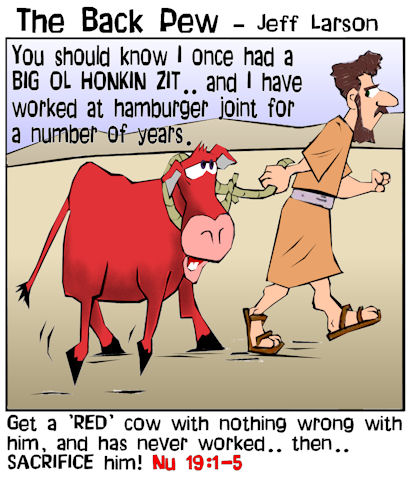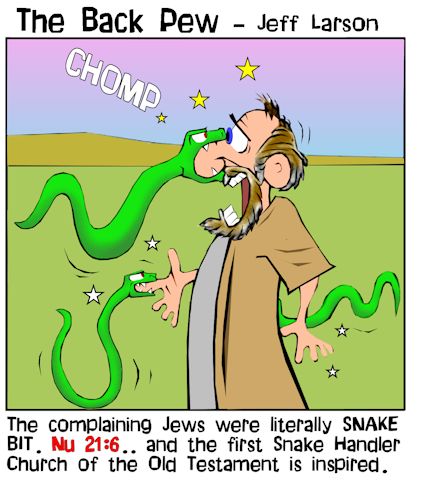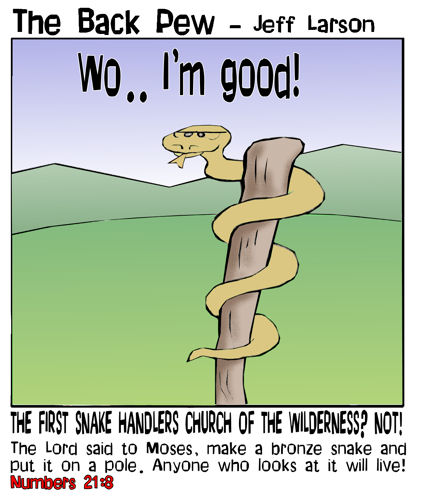 SNAKE BITES
21:6 Snake Bit
21:8 Bronze Snake

A NICE COLD BEER!
21:16 'Beer' Run
21:17-18 A Drinking Song?
SO LONG AARON
21: 27-29 Aaron Dies
BALAAM AND HIS DONKEY
22:21-35 Balaam's Donkey
23,24: Balak and Balaam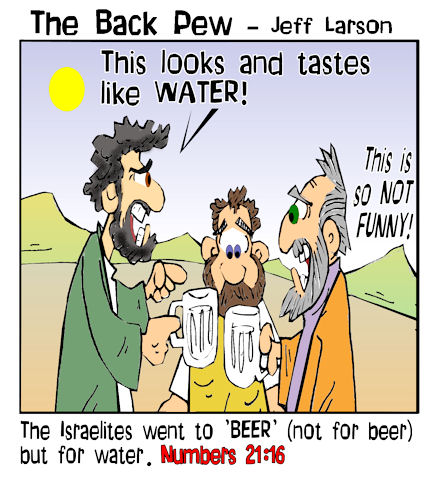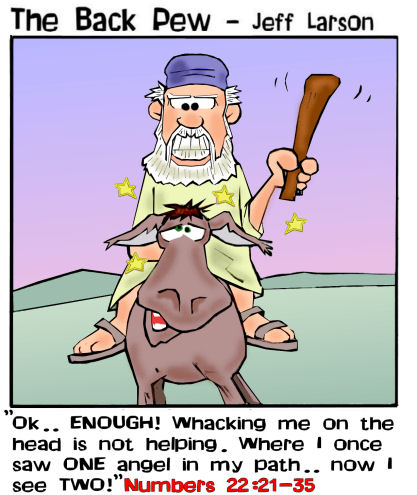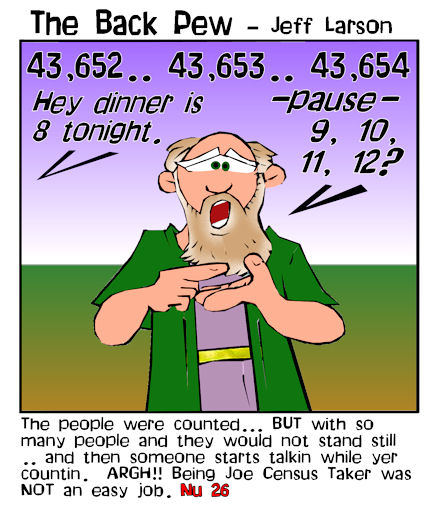 1,2,3..
26 Head Count
28 Counting Men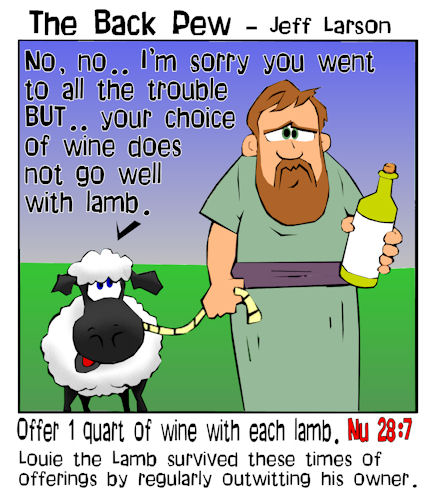 CHOOSING THE RIGHT WINE
28:7 Lamb and Wine
MAKE COOKIES, NOT WAR!!
31 Anti-war Crowd
31:14 AFter The Israelites defeated the Midianites, they were commanded to kill everyone and take no plunder for themselves.. BUT.. allowed 32,000 virgins to live.

Moses is mad, and I do not understand BUT they divide up the plunder which included (v35) 32,000 virgin girls... Let's just say they were not politicially correct in their disobedience and leave it at that.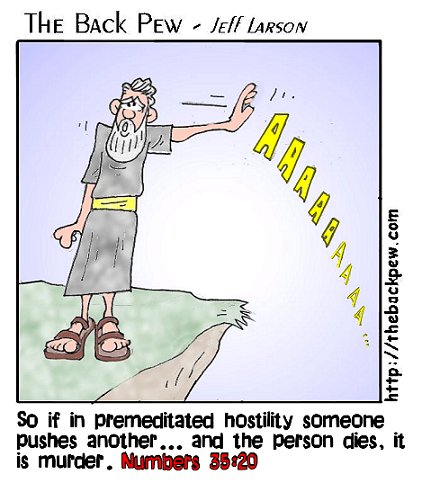 35:20 Shove to Death?