Details

Written by

Rev. James L. Snyder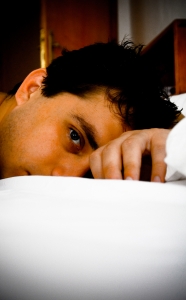 Any real accomplishment in life begins with a well-laid plan. My plans for Thursday were so well laid I had difficulty getting out of bed. However, this did not in the least bit worry me. For the last several months, I had run myself ragged. What with all the wool-gathering and fleecing of the flock, I deserved a wee bit of a holiday.
I retired to bed on Wednesday evening with the greatest intention of sleeping in as late as possible. I giggled as I pulled the bed covers tight under my chin. "No appointments on the morrow," I softly sang to myself.
Try as I might, sleep avoided me. Every time I closed my eyes, they popped open, uncontrollably. My eyes were so wide open I could see in the dark.
Then my ears caught a sound. What was that noise? Was it an intruder?
I stopped breathing so I could concentrate on the sound. For the longest time I could not detect the origin but there was a definite noise. I heard it.
As the sounds of the night pierced my ears, I began to catch a rhythm to the noise: drip, drip, drip.
At first, it confused me. I had never heard such a sound and at night and, as you well know, sound can be amplified a thousand times. I tried focusing my ears in various directions of the noise. Drip, drip, drip.
Read more: Early To Bed, Early To Rise, Makes A Man Want To Cry