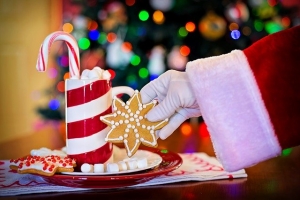 Here is "Cambodian Christmas" by a New Zealander in Cambodia. Thanks to Janice Reid for this version of "'Twas the Night Before Christmas."
'Twas the night before Christmas,
Right here in Phnom Penh
And the beasties were snoring
Tucked up in their dens
The missos were wrapping
Up presents galore
And sharing Yuletide stories
And other folklore
Their mammies and daddies
Were here for the hols,
Right over from Stateside
With presents and dolls
Or Aussie, or England
They came from everywhere
To look for Saint Nick...
If he knew his way here
The stockings were hung
On the aircons with care
And the ants went and found them
And built nests in there
Then suddenly, suddenly
Through the dark night
The dogs started howling
And yelping with fright
Then down the old roadway
The potholes they missed
Those carabao plodding
So laden with gifts
The driver was laughing
And honking and such
As he pulled up outside
And gave the bell a touch
We piled out the door
And opened the gate
And there was the stranger
A tall four-foot-eight
And then he smiled greatly
And gave a nice "wai"
And said, "I am Santa.
Chum reap soar! Hi!"
His face it was shiny
All covered with sweat
But his t-shirt was brighter
Than house-paint all red
He climbed from his ox-cart
And came in the house
And scared, as he did so,
A rat and a mouse
A smile he did give us
And some of those gifts
And we gave him back
Fried bananas and grits
Now Santa, he said
"I have much to do here
To teach all these Khmer
No effort to spare
To celebrate Christmas
To remember the Son
Who is really The Gift
from the Three in the One
Then off he did go
That Santa so merry
To call through the darkness
His message so cheery
And his carabao snorted
As they plodded away
With the leader's nose shining
Turning night into day
And Santa did call
As he rounded the bend
"Merry Christmas to all,
And a life without end!"
Translations:
Phnom Penh: capital city of Cambodia
Beasties: animals (a Down Under term!)
Missos: missionaries
Carabao: water-buffalo
Wai: a polite way of greeting (equivalent to a handshake) by holding hands together in prayer position in front of your face. Done with a small bow for added politeness
Chum reap soar: Cambodian greeting, "Hello."
Fried bananas: common snack, very tasty!
Khmer: Cambodians