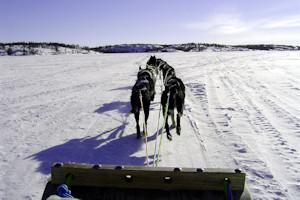 Thanks to list member Marcia Laycock (and her insomnia) for a creative variation of the classic poem.
Twas the night before Christmas, in Yukon you know,
Way up above 60 where Arctic winds blow.
Asleep in their cabin, were Buddy and Sue,
A dreaming of Christmas, like me and like you.
Not stockings but mukluks, at the foot of their beds,
For this was the Yukon, what more need be said?
When all of a sudden from out the still night,
There came such a ruckus, it gave me a fright!
And I saw through the ice fog, like the snap of a whip,
A loaded up dog sled, mushed on at a clip.
The driver was "whistling" and "shouting" with a will,
The dogs (not reindeer) he drove with such skill.
"Mush up Brutus, Muskwa, I said haw, go right!
There'll be plenty of travelin' for all of us tonight."
The driver in his scarf, and a parka that was red,
Had a touque made of wool on the top of his head.
As he stepped from the dogsled, he was really a sight,
With his beard so crusted and frozen so white.
As he burst in the cabin, the children awoke,
And both so astonished, that neither one spoke.
And he filled up their mukluks with such presents galore,
That neither could think of a single thing more.
When Buddy recovered the use of his jaws,
He asked in a whisper "Are you really Santa Claus?"
"Am I the real Santa? Well, what do you think?"
And he smiled as he gave his mysterious wink.
Then he left in his dogsled, with a wave of his arm,
"TO ALL CHILDREN OF YUKON - MERRY CHRISTMAS! STAY WARM!"
Key to words:
above 60: above the 60th parallel of latitude
mushed: dog sled drivers are known to mush - drive their sleds
Brutus, Muskwa: common names for sled dogs - Muskwa means little bear.
haw: go right
scarf: an essential wrap to go around nose and mouth, preventing cold air from freezing the lungs.
parka: long coat usually made of down
touque: a stocking cap or hat
mukluks: moosehide boots usually lined with felt and wool