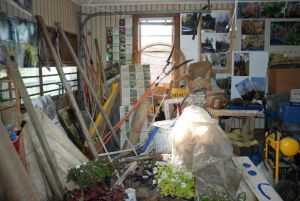 - It just entered itself in the heavyweight division on BattleBots.
- I don't care what mortgage company you use, they're not going to ask for paycheck stubs from anything earlier than the Eisenhower administration.
- Environmentalists picket in your driveway to save the old-growth cobwebs.
- You have 12 leaf rakes with a total of 19 tines.
- Your missing son emerges twelve years after disappearing, with a tale of being raised by boxes and old exercise equipment.
- Cockroaches won't go in there without 12 pairs of tiny rubber gloves on.
- "Antiques Roadshow" holds a live broadcast from your driveway.