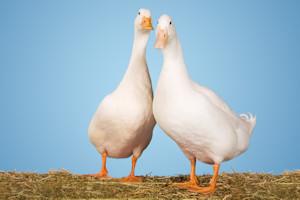 Some farmers were standing around shooting the breeze one day when the topic came around to animals and their distinguishing traits.
The group agreed that the dog was probably the most loyal animal and the mule was undoubtedly the most stubborn.
Farmer Jones piped in, "You know, I believe probably the friendliest animal in all God's creation is the goose."
The others wanted to know how he arrived at such a conclusion.
"Well," explained Farmer Jones, "I was out standing in my corn the other day, and a whole flock of 'em came by overhead. And, do you know, every single one of 'em honked and waved!"