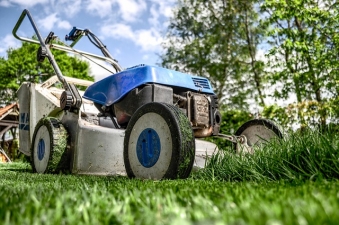 A fly was buzzing along one morning when he saw a lawn mower someone had left out in their front yard. He flew over and sat on the handle, watching the children going down the sidewalk on their way to school.
One little boy tripped on a crack and fell, spilling his lunch on the sidewalk. He picked himself up, put his lunch back in the bag and went on. But he missed a piece of bologna. The fly had not eaten that morning and he sure was hungry. So he flew down and started eating the bologna. In fact he ate so much that he could not fly, so he waddled across the sidewalk, across the lawn, up the wheel of the lawn mower, up the handle, and sat there resting and watching the children.
There was still some bologna laying there on the sidewalk. He was really stuffed, but that baloney sure did look good.
Finally temptation got the best of him and he jumped off the handle of the lawn mower to fly over to the baloney. But alas he was too full to fly and he went splat!!, killing him instantly.
The moral of the story: Don't fly off the handle when you are full of baloney.