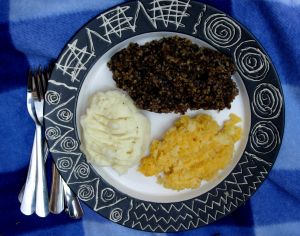 The Lord Mayor of London is being shown around a London hospital. Towards the end of the visit, he is shown into a ward with a number people with no obvious signs of injury or disease.

He goes to greet the first patient and the chap replies: "Fair fa' your honest sonsie face, Great chieftain e' the puddin' race!"

The Mayor, being somewhat confused goes to the next patient and greets him. The patient replies: "Some hae meat, and canna eat, and some wad eat that want it."The third starts rattling off: "Wee sleekit, cow'rin, tim'rous beastie, O, what a panic's in thy breastie!"
The Lord Mayor turns to the doctor and asks: "Is this mental ward?"
"No" the doctor replies, "It's the Burns unit."