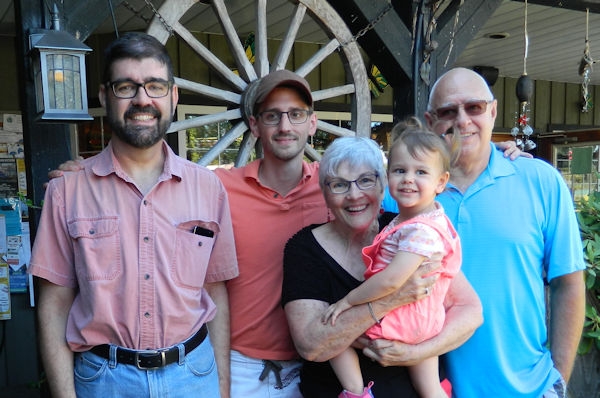 Sunday greetings, everyone.
The Cybersalt Newsletters did not go out yesterday. Mrs. Cybersalt and I had family over and took the time to enjoy them. This morning, as you will see in the picture to the right, there were 4 generations of Davises out for breakfast. Left to right is yours truly, my son Clayton, my mom Diane, my granddaughter Eleanor, and my dad Larry. My lovely wife and daughter-in-law were also there behind the camera trying to get us all to look in the same direction (OK, we need some practice there.)
There is a new Rev. James Snyder devotional on the Cybersalt Site today. James found another penny for his secret penny bank (which may not be a secret after all!). You can read "Pinching Pennies in a Nickel Economy" at:
www.cybersalt.org/gods-penman/pinching-pennies-in-a-nickel-economy
Enjoy the rest of today's mailing!
~ Pastor Tim