Oh look, Chicken Thursday and Christmas Eve!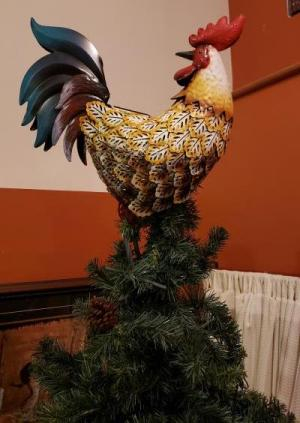 For the majority of the Christmases since Cybersalt began back in 1998, I have sat down to pen a Christmas Eve message to send out to Cybersaltines, wishing them (you) a merry Christmas, while also expressing an awareness each year that for some, Christmas would be hard. Some of those years I was a member of that "some."
This year, we are all members.
Make no mistake, this Christmas was already going to be hard for many because of the usual pain that military service, prison terms, estrangement, sickness and/or death brings. But the pandemic has also cast a grey pall and a weight on us all. Like a sweater worn into a lake, what used to be light is heavy, what was heavy is heavier, and what used to be almost unbearable has become denser, threatening even more to take us down.
In these heavier times, may the message of the angels on that first Christmas night still comfort us, "Do not be afraid. I bring you good news that will cause great joy for all the people. Today in the town of David a Savior has been born to you; he is the Messiah, the Lord."
And, wherever we are and whatever the weight of our burden this Christmas, let's respond to that message just as the shepherds who first heard it. Luke tells us they "hurried off" and found Jesus.
The pilot for "The Chosen" demonstrates this truth wonderfully, and you can watch that by clicking here.
A blessed and Spirit-filled Christmas to all of you!
~ Pastor Tim