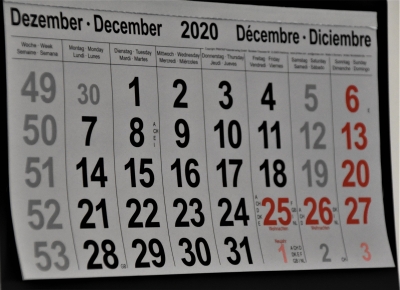 Sunday greetings everyone!
There are only 5 days left in 2020 and in that short time I have a number of pre-New Year's goals to accomplish. They are:
End the year with a zero inbox for emails received in 2020. I'm close on this one - but it is still going to take a concentrated effort.
Empty the "toss it in this box and do it later" box that has been sitting on the floor of my office. I thought it was left over from when I closed my office at the church in October of 2017, but my wife reminded me it existed for years before that. It still seems to me it has only been 3 years, but I'm taking her word for it because that thing is practically invisible to me and I sure she has a better eye for spotting my messes because she lives with them. Fortunately for me, that seems to be an ability she developed after we were married. I think constantly gazing at me in admiration while were were dating and then engaged was a helpful distraction in this area.
Go to bed New Year's Eve with a clean desk. This one is a 5 minute tidy away from completion after Grandma Cybersalt took a couple of hours and help me tackle it last weekend.
Finish up a bit of work for clients that I am super behind in. I think I can make a good dent in this one, but business is growing and I just incorporated so there is a bunch of fiddly paperwork and setting up I have to tackle this week as I wrap up being a sole proprietor. (Technically, even when I was a sole proprietor I was already limited to a degree.)
Be kind to myself. It's the last week of a very tough year so I'm going to cut myself some slack in having to reach my goals. Stressing about reaching them will only make them harder to attain. Accomplishing and celebrating steps along the way is a much greater motivator for me.
This week's video share is actually a playlist for the first season of "The Chosen."
Last Thursday's video share about the shepherds in Bethlehem was actually the unintentional pilot for this series. The shepherd video was made for a church by Dallas Jenkins following the biggest failure of his directing career, but it went viral and that lead to this amazing series.
Click here to find the playlist on YouTube.
Enjoy the rest of today's mailing!
~ Pastor Tim