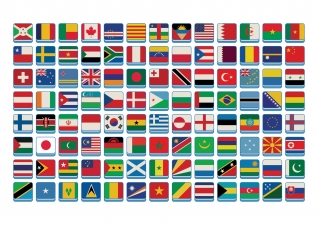 Oh look, the first Chicken Thursday of 2018 - Happy New Year!
Sunday's Cybersalt Digest included an item that featured 40 ways to say Merry Christmas and Happy New Year in different languages. Well, it turns out there were some missing. Thanks to everyone who contributed more:
Jaco van W. wrote:

You forgot my home language Afrikaans: It is a beautiful language spoken in the most southern point of africa. In afrikaans, the translation is : "Geseënde kersfees en voorspoedige nuwe jaar"! Regards "groete"
Liberté H. wrote:
You missed out Europe's oldest living language..... Welsh.... happy new year is Blwyddyn Newydd dda..... to pronounce the dd sound you put your tongue as if you were going to say THE, only it is a longer gentle blow..... then to pronounce the LL letter (as they are both letters in their own right!) you put your tongue again to say THE only this time instead of gently blowing forwards you blow sideways.... as if you have a certain type of lisp.
And my neglected online friend, Walter M., wrote:
You know I like to jump on the least little possible error, like the Aztec Sun Stone, so I thought I would mention that "Shanah Tova" is something I have only heard in connection with the Jewish new year which was a little while ago. It might be the same, but I'll have to check it out with my Messianic pastor friend. You also left out my favorite language, Siamese. Oh-wah ta-si ligu Siam.
I'll be making updates to the original item.
Enjoy the rest of today's mailing!
~ Pastor Tim