Oh look, Chicken Thursday.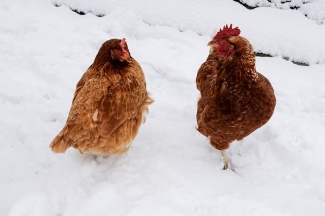 Today's date is very lean in it's use of numbers - namely 0, 1, and 2. It is 21/01/2021. In military time, this evening at 21 seconds after 9:21pm it will be 21:21:21 21/01/2021!
Speaking of 21's, thanks to Cybersaltine Greg M. for pointing out that I was still using the year "2020" in the Cybersalt News title. It's not that I was trying to live in the past (even though January 2020 was a great month for me with a trip to Spain, Gibraltar, and Jersey.)
Rather, for the last 51 weeks of the each year, I start a new news item by making a copy of the previous Thursday or Sunday's article. That's 102 repeats, which form quite a habit to suddenly notice with all the busyness and changes that come with the first week of a new year.
And as any of us who have been nuns knows, some habits are very hard to get out of. I know that's a real groaner, so I'm going to 23 skiddoo!
Enjoy the rest of today's mailing.
~ Pastor Tim