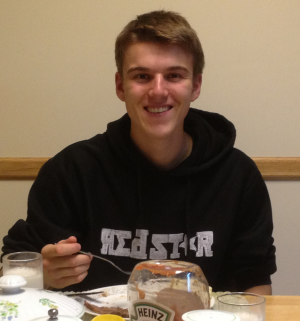 Sorry for the mix-up on October 31, when I accidentally sent the Pearly Gates mailing to all Cybersalt Digest subscribers. I wondered why so many people unsubscribed that day - I guess there is a reason I send theologically incorrect jokes to the former and not the latter. BTW, if you want to receive the Pearly Gates newsletter, you can subsdcribe using the "To Modify Your Subscription" link at the end of this mailing.
There are 5 more updated funny picture pages on the Cybersalt site today. You will find them at:
www.cybersalt.org/funny-pictures/mom-eyes
www.cybersalt.org/funny-horse-pictures/horse-scream
www.cybersalt.org/funny-pictures/hamburger-diet
www.cybersalt.org/funny-pictures/roller-coaster-lift
www.cybersalt.org/funny-pictures/dummy-cutbacks
Finally, you may be wondering who the handsome young man is in this picture. He is Johnny K., the son of a Cybersalt subscriber who I am sure is happy to see a picture of his son here. Johnny is staying at Cybersalt World Headquarters for a few days while his dorm room is being used for a retreat. He is a very well mannered, polite, and SINGLE young man. - (ladies note !!!!)
Enjoy the rest of today's digest.