Sunday greetings everyone - and since this is the last mailing going out before US Thanksgiving - Happy Thanksgiving to our American subscribers.
With US Thanksgiving coming up, today's news is supersized for your holiday enjoyment.
First of all, it's a good thing Rev. James Snyder likes Turkey because his wife is cooking three of them! You can read "Thanksgiving Quandry: Roast Turkey or Lame Duck" at:
www.cybersalt.org/gods-penman/thanksgiving-quandry-roast-turkey-or-lame-duck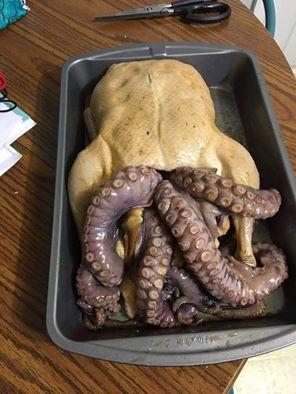 If you are looking for a bit of change from your traditional Thanksgiving turkey, why not try a "Turkraken?" As for me and my house, I'll pass and I bet you care to join me once see "Turkey Stuffing" at:
www.cybersalt.org/funny-pictures/turkey-stuffing
And of course whatever you eat you will probably need to slice it up. Why not use a waterjet like in the video "Cutting a Turkey with a Waterjet" at:
www.cybersalt.org/funblog/cutting-a-turkey-with-a-waterjet
Finally, did you know that even though Canadian Thanksgiving takes place in early October, Thanksgiving sermons from then are still fresh and applicable at the end of November? You'll find audio recordings of 11 sermons on Thanksgiving and being thankful at:
www.westsidefamily.org/thanksgiving-messages
Enjoy the rest of today's mailing!
~ Pastor Tim