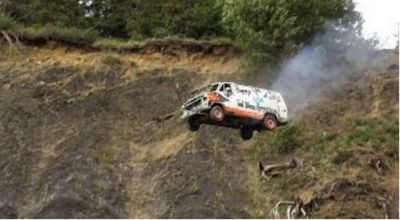 Oh look, Chicken Thursday!
Before I share the latest entry in the FunBlog with you, I want to give a little reminder as to why I think it's fun (some of you will think "that's dumb" and you aren't wrong!)
Years ago I raced at our local speedway where my nickname was the Pastor of Disaster. Of the types of racing I did, my favorite was "Hit to Pass Demo Trucks". Basically the rules were that you could not pass the truck ahead of you unless you bumped, rubbed, spun, or made some other kind of contact with it. The same was true of the truck behind you. You can watch a video of a big wreck I was in (I'm in the blue #61 truck) at https://www.youtube.com/watch?v=4VdQksNbd_M It was great fun - and of course some people thought it was dumb.
That brings me to today's FunBlog entry - I think it's the same kind of good fun. You will find "Cars Fly" at:
www.cybersalt.org/funblog/cars-fly
Enjoy the rest of today's mailing!
~ Pastor Tim