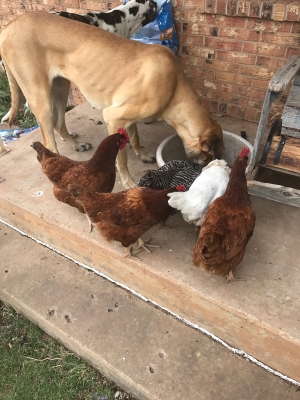 Oh look, Chicken Thursday!
Today's Chicken Thursday shoutout is to Rhea N., who sent this great picture of an everyday event at her son's house: A Great Dane Picnic. Thankfully, it's a picture of great danes eating *with* chickens and not eating chickens!
In other news, Shopify is hiring in Canada and Ireland. My daughter, Alyssa, works for Shopify as one of their tech support people (which they call gurus) and he told me that Shopify has a push on to hire people who can start in October so they are trained and working by Black Friday and Cyber Monday. This is a work from home job and Shopify supplies the laptop.
If you are interested in finding out more here are the relevant links:
You live in in Ontario: http://bit.ly/2hhwrZm
You live in Alberta: http://bit.ly/2xgrCah
You Live in British Columbia: http://bit.ly/2ydtxM4
You speak Spanish as well as English and live anywhere in Canada or Ireland: http://bit.ly/2xmBGjX
If you would like to chat with Alyssa about the job you can contact her at This email address is being protected from spambots. You need JavaScript enabled to view it.
Enjoy the rest of today's mailing!
~ Pastor Tim