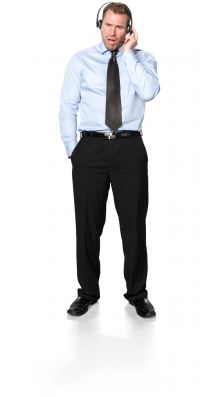 Among the many traditions and rituals observed around the world – one holds a special place with the Gracious Mistress of a Parsonage and Yours Truly. Since I am accused of breaking everything in our house, I guess it will not hurt if I break the silence on this one.
he one great ritual we practice religiously at our house is dinner. Other things and activities in our society have replaced dinner today and few families actually eat dinner at home on anything like a regular basis.
Nothing is more sacred to my wife and me than observing the daily ritual of dinner. I know some people are very careless about their dinner. Rarely do they give much thought to the religious implications of the evening meal, which may be one reason our country is in such a moral decline. Little chance this will happen at our house.
In our humble domicile, we delight in celebrating this daily festival with all the delicious rituals that go along with it. Woe be unto the uninvited intruder. Yet, certain unscrupulous people have injected themselves into this holy shrine of ours.
This is not been too much of a problem until recently. It started rather slow and then quickly developed into a phone-ringing marathon. If the phone rings at dinnertime it had better be a life or death situation or it just might end that way.
Usually, the phone ringing begins when we sit down for the evening ritual. No sooner do I begin to take the first bite when the intrusions begin.
It all came to a head last Thursday. We had just sat down when the telephone rang. I got up to answer it.
"Hello," I reverently whispered into the telephone, careful not to break the religious euphoria of the moment.
"Hello," a very cheery voice said, "Mr. Snyder, how are you today?"
For the life of me, I could not place the voice. I looked at the caller ID to see who was calling and it only said "Private." It was somebody who knew me and was expecting me to know them. I hate situations like this.
I know my old "memory-machine" has not been running on all eight cylinders for years, but it is really embarrassing to forget someone's name. I usually can remember a face but I can never put a name to that face.
I can put a name to a face all right, just not the right name. People are rather funny about these things. They want their name to go with their face. Just between you and me, if I had some people's face I would not want to put my name to it.
I could only assume this was a person that knew me very well and that I knew them as well. So I began telling them how I was doing, waiting for any clues that might trigger the old memory cells in disclosing the identity of the person at the other end of the phone. I'm looking forward to the time when all phones are wired for video so that you can see whom you are talking to.
When I caught my breath, the person at the other end of the line jumped into the conversation.
"Mr. Snyder, I would like to talk to you about something rather important."
With this clue, I knew it was no friend of mine. No friend of mine has anything that important to say to me that they would interrupt my dinner. All my friends (both of them) know not to call me at dinnertime. I do not call them when they are watching their soaps – and they do not call me when I am eating my soup. It is a rule between friends.
At this time of day what could be more important than observing my daily dinner ritual?
"Mr. Snyder, I would like to tell you about ..." Then she mentioned some politician who was running for president of the United States. She proceeded also to tell me how much this particular politician understood my problems. Furthermore, she assured me that this particular politician would do everything possible to solve my problems.
"Mr. Snyder, you can count on (politician's name), can he count on you come election day?"
"How will your politician solve the problem with my evening dinner ritual?" I said rather sarcastically.
"Say what?" a very confused voice said.
"The problem with my evening dinner ritual," I said with a little more emphasis than normal.
"What's the problem with your evening dinner?" a confused voice asked.
"Being interrupted by people with nothing better to do than tell me about some politician I've never heard of before," I spat back.
The click at the other end of the line released me from the drudgery of listening to political pitter-patter, so I could resume the sacred ritual of eating my dinner.
Fortunately, God is not like some political telemarketer trying to sell a bill of goods about someone you do not know very much about. Patiently, he is seeking our attention.
The Bible says, "Behold, I stand at the door, and knock: if any man hear my voice, and open the door, I will come in to him, and will sup with him, and he with me." (Revelation 3: 20 KJV.)
God never intrudes, but invites you to allow Him to come into your life and make all the difference in the world.
Dr. James L. Snyder is pastor of the Family of God Fellowship, 1471 Pine Road, Ocala, FL 34472. He lives with his wife in Silver Springs Shores.
Call him at 352-687-4240 or e-mail This email address is being protected from spambots. You need JavaScript enabled to view it.. The church web site is www.whatafellowship.com.
Dr. James L. Snyder is pastor of the Family of God Fellowship, 1471 Pine Road, Ocala, FL 34472. He lives with his wife in Silver Springs Shores.
Call him at 352-687-4240 or e-mail This email address is being protected from spambots. You need JavaScript enabled to view it.. The church web site is www.whatafellowship.com.