Finally, the long anticipated Spring has arrived. And not too soon, if you want my opinion on the subject. This past winter has been the longest winter I have ever had to endure. I have shivered more this winter than all the winters proceeding. That is, if my memory serves me correctly.
To be honest, my memory has on occasion failed me. I think it does that just to show me who is really boss in my head. I would give my memory a piece of my mind, but it already has it. I find myself hostage to my memory. I have offered a penny for a thought but because of inflation, it is now up to $.15. Who has that kind of money?
However, I am the kind of person who lets bygones be bygones. Nevertheless, I just would like to say one thing to old Winter, "Bygone." I wonder where the Winter goes during the Spring and Summer? But perhaps more important, how in the world does it find its way back?
Spring is here, and one sunny afternoon is enough to evaporate all those dingy thoughts about the Winter. No matter how cold and long Winter was there is a new season a foot, and I will not waste my time worrying about the Winter, which has recently disappeared.
Spring has so many amazing qualities to it that it is hard to know where to begin flaunting its excellencies. I could spend the rest of the year talking about how marvelous and wonderful Spring is and the benefits it brings to humanity in general.
Spring has a magical quality about it in many respects. No matter how hard the Winter might have been, one spring day erases that frigid memory. Just like magic, one day I am complaining about how cold it is, and the next I cannot remember being cold. That is one good thing about my imperfect memory; it is usually in good working order.
Another wonderful quality about Spring is the way it cheers up a rather depressed spirit. I know back in January the Gracious Mistress of the Parsonage caught me in a rather depressed mood. Normally, I am cheerful and upbeat, not to mention the life of the party, but on this occasion I was none of the above. I was rather drearily depressed but not only that; I was venting my depression in her general direction. Actually, it was not aimed at her specifically; anybody would have been the target of my depression at the time.
"Are you," she finally said, "going to mope around here all day?"
When I answered her in the affirmative, she instructed me that to do such I could jolly well do my moping outside in the chilly weather. Being in such a depressed mood at the time, I was not able to come up with some sarcastic retort. I just sighed and continued my moping... on the freezing porch.
Now, thanks to the arrival of Spring, all of that is behind me. I am my normal cheerful self with all those sarcastic retorts on the tip of my tongue. I just love Spring.
Spring also carries with it energetic thoughts about doing something. All winter long, it was impossible to do much of anything outside, but now all of that has changed. My energy level is at an all-time high. Just looking out the window generates ideas of activities I could be doing. Nothing is stopping me from doing whatever I want to do outside in the warm afternoon. The weather is perfect. And by perfect, I mean warm.
There are so many things that I want to do that I just cannot pick out one project to start off my Spring fling. I know what I will do. I will sit out on the back porch and make a list of all the things I can do now that Spring has arrived. I got my notebook and a beloved pen and adjourned to the back porch settling down in my favorite chair. The afternoon was perfect. In fact, it was so perfect and I was so relaxed and so undepressed that I actually fell asleep. Oh, and what sweet dreams I was dreaming as I basked in the Spring sunshine. As far as I was concerned, all was right with the world.
It was then that my world of bliss came to an abrupt end. I heard a voice. It was a familiar voice. One I had heard many times before.
"Are you," the voice demanded, "going to waste your time loafing in that chair all day?"
When I answered in the affirmative, the voice instructed me that to do such I could jolly well do my loafing out in the garage that begged a Spring cleaning.
As I slowly walked towards the garage I remembered some scripture I had read earlier in the morning. "Sing unto the LORD, O ye saints of his, and give thanks at the remembrance of his holiness. For his anger endureth but a moment; in his favour is life: weeping may endure for a night, but joy cometh in the morning" (Psalms 30:4-5 KJV).
In the midst of adversity, just like the dreariness of winter, we have God's promise that it will endure for only a moment but we have hope of the joy that comes in the morning.
The Rev. James L. Snyder is pastor of the Family of God Fellowship, 1471 Pine Road, Ocala, FL 34472. He lives with his wife, Martha, in Silver Springs Shores. Call him at 352-687-4240 or e-mail This email address is being protected from spambots. You need JavaScript enabled to view it.. The church web site is www.whatafellowship.com.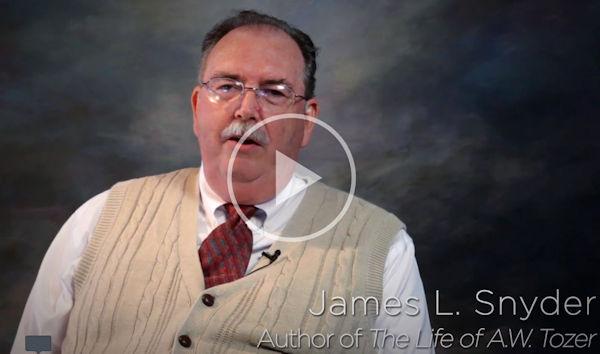 Dr. James L. Snyder, is pastor of the Family of God Fellowship, 1471 Pine Road, Ocala, FL 34472. He lives with his wife in Silver Springs Shores. James is an award winning author whose books are available at https://amzn.to/2SMOjwO.
Call him at 352-687-4240 or e-mail This email address is being protected from spambots. You need JavaScript enabled to view it.. The church web site is www.whatafellowship.com.