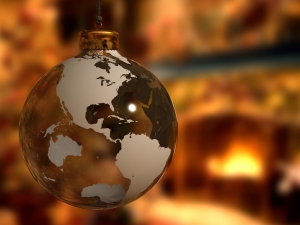 T'was a month before Christmas, and all through the church...
The preacher was pacing, as he'd been caught in the lurch.
He loved tinsel, turkey and snow on Christmas day...
But 1-2-3-4 sermons of Advent... what would he say?
Sermons on shepherds, a message on magi,
Year after year and now the well has run dry.
He sat at his desk, not at all very merry
His nose buried in a Matthew Henry commentary.
Soon he was sleeping, like a long winter's nap...
Until he woke with a start from a slap on his cap.
What to his wondering eyes did appear...
A man there did stand with a grin ear to ear.
"Are you the ghost of sermons past?" the preacher inquired.
"Are you here to warn me to shape up or be fired?
Will you tell me my sermons were dull, dry and uninspired?"
But the man said, "Heck no. I'm the janitor you hired.
I was dusting the hallway when I looked in your door.
I thought you were praying 'til I heard you snore.
I thought I'd wake you so you'd get your work done.
But I have much to do so now I must run."
"But wait," said the preacher, "What should I preach?
Creative thoughts and ideas seem so out of reach."
The janitor spoke up so lively and quick...
He spoke with the hope that his words would stick...
"Preach passion, preach power, preach hope and conviction.
Preach comfort, and truth... but do not preach fiction!
Stand tall in the pulpit, and stay true to your call
And don't stop sermonizing 'til you've said it all!
Throw open the windows for the world needs to hear
And tear open the shutters without any fear!
The world don't need clever or conjecture or cute.
Preach gospel truth that the devil can't refute.
Preach Jesus from cradle to cross to the tomb.
Preach freedom to captives and joy through the gloom.
Preach Jesus so soundly, so strong and so true....
That they think only of Him, and not of you."
He spoke no more, but went back to his work...
And the preacher thought, "Wow, am I ever a jerk!
I thought I needed new ideas and fresh thoughts,
But the janitor helped me reconnect all the dots.
Its not about re-creating the old, old story
Its about preaching so God gets all the glory!
I've been preoccupied with what they think of me...
What they think of him is my priority."
Let us preach Jesus, from baby to king.
To him be the glory in everything!
Preach Christmas to all, as to all we are reaching...
Merry Christmas to all, and to all, happy preaching!
Pastor Troy Tobey,
Lakeshore Community Church,
Bright's Grove Ontario
Copyright 2021, Used with Permission