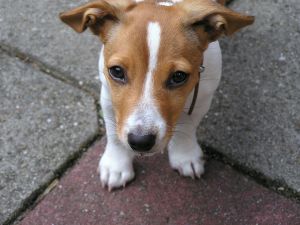 MIDDLESBROUGH, England - Yvonne Stubbs has decided to give up smoking, not for health reasons, but to help cure her pet dog's 20-a-day addiction to cigarettes.
Her dog Patch, a Jack Russell, immediately attacks the ash tray when she puts out a cigarette. He is addicted to chewing the tobacco and likes to spit out the filters. If Patch goes for too long without a cigarette, he whines and makes begging noises until he gets what he wants.
His owner has even considered getting him a nicotine patch. "I don't begrudge anybody a cigarette, but this is ridiculous. He doesn't like whole cigarettes, just the ends.
I would try nicotine patches on him, but I don't know where I'd put them and he'd just scratch them off," said Stuffs.
In the meantime, she and her daughter are trying to stop smoking to encourage Patch to give up the habit as well.