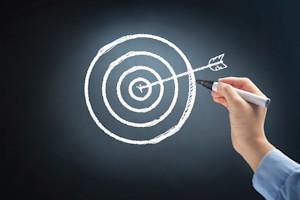 A salesman is driving down a country road when he sees a young kid in front of a barn. On the barn are 5 targets with arrows in the bull's eye of each target. Screeching to a stop he runs out to the kid amazed that this kid could shoot so well.
"Son," he says, "how did you hit all those bull's eyes?"
"Well sir," the boy replied, "I take the arrow and lick my fingers like this, then I take my fingers and straighten the feathers like this, take aim with my hand against my cheek, let go and where ever the arrow hits, I draw a bull's eye."