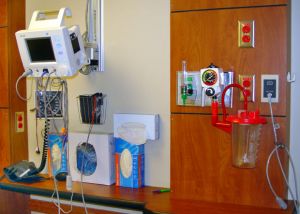 Grandma Jones from the valley had never experienced a sick day in her life, so she didn't take it kindly when a bad case of the mulligrubs sent her to the hospital for observation.
By the time a pair of husky interns got Grandma tucked into bed, she had managed to complain about everything: the temperature, the lights, the skimpy gown, the food and the mattress, especially, the mattress.
Suddenly, Grandma spotted a small plastic item with a button, attached to a cord. "What's that?" she demanded.
"If you need anything in the middle of the night, Grandma," said one of the interns, "just press that button."
"What does it do, ring a bell?" she asked.
"No, it turns on a light in the hall for the nurse on duty," the intern replied.
"A light in the hall?" responded Grandma. "Look, I'm the sick one around here. If the night nurse needs a light on in the hall, she can get up and switch it on herself."