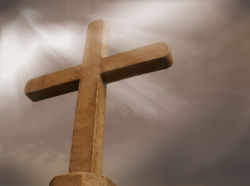 What does it mean to look to Christ? William Fenner (1600–1640) explains:
"When a man looks to Christ in such a way that he follows him; when a man sees him as his only means of being happy, godly, and in the favor of God, the only means to do and be well, and genuinely desires to follow after him - this is to look up to Christ.
When a man sincerely labors to follow the counsel and direction of Christ in all his ways, he bids him deny himself - and that is the thing that he labors for. He bids him repent of all his sins, ply himself to all God's holy paths, and rely upon him for strength and acceptance, mercy and pardon, and every blessing.
Whatever he looks for at the hands of God, he sets himself to follow Christ's counsel, and to expect it in him. If he sees
his sins, he looks up to Christ, and there he sees Christ's death defraying them; when he sees what power they have over him, he looks up to Christ for his Spirit to subdue them according to all the means that he has appointed - namely, by prayer, meditation, watchfulness, striving, purposing, endeavoring, and fighting against all the lusts of his flesh.
And in whichever ways he may fail, he labors to be humbled, and to continue looking up to Christ for forgiveness and more help against another time."