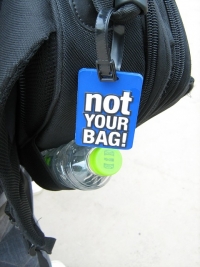 Mr. Smith was a traveling salesman and frequent flyer, so he was always very careful to mark his luggage so that no one would mistakenly take his bags.
He always did this with bright ribbons and tape, so he was quite surprised to see his bags grabbed by a well-dressed man when he got to the luggage carousel.
Mr. Smith walked over to the fellow and pointed out the colored ribbons tied to the handle, and the fluorescent tape on the sides.
"I believe that luggage is mine. Were your bags marked like this?" he asked.
"Actually," the man replied, "I was wondering who did this to my luggage."