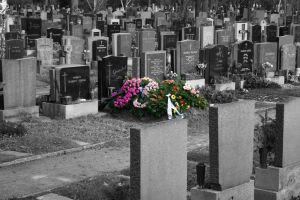 In a small town in America, there was a Doctor Brackett. He was known as the poor man's friend because he spent hours at the bedside of unfortunates and never ever took a fee from them. He lived in two upstairs rooms over a grocery store. At the foot of the stairs going to his quarters was a painted sign which said: DOC BRACKETT - OFFICE UPSTAIRS.
He even lost his girlfriend, whom he wanted to marry, because, he spent more time with the sick than with her. He spent a life of selfless dedication to any and every person around him. When he died, his funeral was the biggest ever seen in that town.
At a meeting afterwards, the townspeople tried to figure out what kind of monument to erect to the memory of the doctor. A couple who had been especially helped by the doctor, on their way home from the meeting, removed the sign from his door and the following day it appeared over his grave.
It read: DOC BRACKETT - OFFICE UPSTAIRS.