A message delivered to Houston's First Baptist Church on Sunday, Dec 24th, 2000
I was asked to share with you what Christmas means to me. In order to do that, I will begin with a brief history of my personal journey out of Hong Kong followed by four applications of what Christmas means to me as a result of that background. I pray this message will bless you in a special way.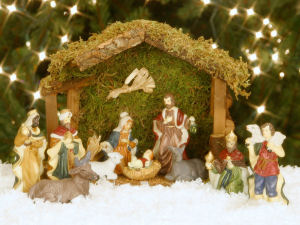 I was born in the city of Hong Kong. I went to a mission school and accepted Jesus for the salvation of my soul at a young age. I remember going to the chapel every day at the age of 10, talking to God, longing to have more of Him but not knowing then that God reveals Himself in the Bible and that the only way to know God better was through studying His Word.
My mother was a humble woman. In many ways, all she had was God. As early as I can remember, I recall my mother's prayers and how she begged God to protect her children and to deliver our family to political freedom in the land of America.
My parent's petition to come to this country was denied. My siblings and I were granted exit visas because we had won full scholarships to American Universities.
My brother was the first to leave. Shortly before my sister and I were scheduled to leave, my mother became very depressed and I woke up one morning to find that she had taken her own life.
In the summer of 1974, at the age of 17, I remember boarding that plane for the United States with all my belongings in two suitcases. I waved goodbye to my Dad and felt my heart being ripped out as I watched him standing by the gate all alone, knowing that he would be returning to an empty house.
My only consolation was to think that he would come visit at Christmas and we would be united for a little while.
As the plane lifted off from the land in which I was born, I wrapped my arms around myself imagining it to be the arms of God, begging God to walk with me into my future. When I set foot on the free land of America, I was filled with euphoria at having reached the dream that began in my mother's heart. At the same time, I was filled with a grief that no words could describe.
[gbrl]On the outside, I appeared as if I had my act together. On the inside, I was like a drowning man grasping for straws because I was living on the fumes of my mother's memory and it is so hard to live a dream you dreamed together, when the person you dreamed the dream with is no longer with you.
I found myself asking, "What am I supposed to want to be?"
My father came to see me the Christmas after I left Hong Kong and I remember counting the days till his arrival. I learned that all the Christmas gifts under the tree could not compare to the gift of spending that week with my Dad. It was a sad day when I had to take my Dad back to the airport to board the plane for Hong Kong.
For years, I struggled with defining myself. I plunged into my academics, I got married, I was on a fast and furious track up the corporate ladder. I had my first son. Then I heard God's voice as clearly as if He were standing in this room and He said, "Follow Me!" I tried to negotiate but God had spoken. So I found myself leaving my corporate career to follow God to the land that He would show me.
While I was at home, I tried to transfer my corporate skills to managing the household. I thought, "How hard could this be?" So, I kept logs and logs of data on my baby. I recorded when he woke and when he slept. I recorded every bowel movement and I proceeded to plot that data in a chart on my computer, thinking there was some kind of pattern to this baby, not knowing then that babies have no pattern and once you figure it out, they'll change it on you.
It was while I was home with my sons, born nineteen months apart, that I was reading them a book by Carla Dijs titled, "Are you my Mommy?" The book is about a little chick that lost its way and goes around asking everyone, "Are you my Mommy?" The cat said, "No. I have fur and I like to pur."
The rabbit said, "No. I have ears and I like to hop." As I was reading this to my children, God opened my eyes to see that I had been trying to find her in all the faces that I met. Have you ever looked for a relationship in all the faces that you meet? The Lord met my need by bringing me to 2 Corinthians 5:17, "Therefore, if anyone is in Christ, he is a new creation…"
To my question, "Are you my Mommy?" the Lord Jesus said, "Yes, I am!"
Christmas to me means "Jesus came for me." My Mom was my best friend.
We dreamed of reaching the promised land of America together. We said that no matter how difficult things got, we would be all right because we had each other. When I woke up to find that she had taken her own life, all I could think of was, "You left. You promised you would never leave without me. But you left." Sometimes, people make promises they don't keep. Sometimes, they make promises they can't keep. But God taught me that I am not a victim of choices other people make. Though all abandon me, the Lord will take me up in His arms. Jesus came for me.
After my mother's funeral, I was packing up her belongings and found a biscuit box she had hidden. When I opened it, I found the last gift she gave me. It was diamonds she had invested in, with a note that said they were for my future in the United States and I was to sell them if I ever needed money.
I still have those pieces today. As sweet and meaningful as that gift was, I found it could not carry me through my life. My need was more than financial. Christmas to me means "God sent me Jesus because Jesus is the answer to all that I need." Jesus said in John 7:38, "Whoever believes in me, streams of living water will flow from within him." God is my dream maker. He is not a memory. I don't have to live on fumes. He lives in me and He is the gift that keeps on giving. My past cannot imprison me or limit me. Jesus is my lifeline and an unending source of power for my life.
The question is, "Do I believe it and will I receive it?"
Every chapter must have an end before a new chapter can begin. This was how the story with my mother ended: When I was a little girl, I promised my Mom I would get her out of Hong Kong before the Communist takeover.
Therefore, before Hong Kong returned to Communist China in 1997, I sent for my mother's ashes. For years, I dreaded the moment I would hold that urn in my hands, projecting that I would be thinking, "This wasn't the way I expected to bring her out." I remember sitting in my living room, unwrapping the brown padded parcel a friend had hand carried to me. In it was a white marble urn with the gold etched inscription of her name and the words, "Rest in Peace" To my surprise, when I pulled her urn close to me, I had a song in my heart and I was filled with praise over a God who, in His grace, remembered the prayers of a mother to protect her children, though she was not here to see it. Though she lost hope, God remained faithful. And I saw how God lowered His hand from heaven to handraise my mother's children for Himself so that all of us are not only politically free but we are spiritually free. To me, Christmas is God intercepting human history to give me His Son to take my suffering and to exchange it for His victory song.
Six months ago, my Dad and my step-mom moved to Houston, Texas. After 25 years, we are finally united. My brother and my sister and their families flew into Houston for Christmas and they are here this morning. We will be celebrating Christmas together and when the celebration is over, I won't have to take my Dad back to the airport. It took 25 years before God brought my Dad to Houston because God had to wean me off the dream that began in my mother's heart to give me His dream for me. It was after I was certain of my calling that it was then safe for God to unite me with my biological family.
For I was created by Him and for Him. In Galatians 4:4, God's Word said, "…when the time had fully come, God sent His Son…" Christmas to me means God will fulfill His purpose in His perfect timing.
In summary, to me:
Christmas means "Jesus came for me."
Christmas means "God sent Jesus because He is the answer to all that I need."
Christmas means "God sent His Son to take my suffering and to exchange it for His victory song."
Christmas means "God fulfills His purpose in His perfect timing."
This Christmas, I pray you will experience Christmas for all God meant it to be.
- by Anita Grace Lie Carman (This email address is being protected from spambots. You need JavaScript enabled to view it.)