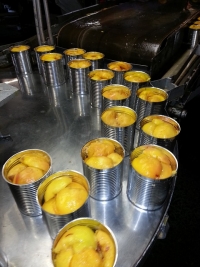 An 80 year old woman was arrested for shoplifting.
When she went before the judge he asked her, "What did you steal?" she replied, "A can of peaches."
The judge asked her why she had stolen them and she replied that she was hungry.
The judge then asked her how many peaches were in the can. She replied, "Six."
The judge then said, "I will give you 6 days in jail."
Before the judge could actually pronounce the punishment the woman's husband spoke up and asked the judge if he could say something.
He said, "What is it?"
The husband replied, "She also stole a can of peas."
The PearlyGates list features material that Pastor Tim thinks is funny but would probably generate emotionally fueled feedback if sent to his other more general and family safe lists. He knows the jokes are theologically, politically, and/or socially incorrect and he's OK with that. And yes, he would tell these jokes to his mother, his children and even his church in certain public speaking situations where he is called pastor for reasons other than the jokes he tells.