Matt and I went car shopping yesterday. BLAT is on its last legs, and we are hoping our next vehicle will be more reliable for us over the next several years. The car we test drove today was nice, but not the right price, and the sales guy was merciless in his haggling. He stood firm on the asking price despite some obvious work the car would need, so we walked away, but it was a good experience for us to confirm what is important in the next car we buy.
The most interesting part of the day for me was reading through the CarFax print-out that laid out the history of the car. We could see how many owners the car had, how much mileage each owner put on the car, and whether there had been any accidents or other claims (such as the car being stolen or vandalized). This car had a pretty clean record, but it got me thinking – what if people came with a printed out history? Would it make relationships easier or harder if we could know everyone's past right off the bat?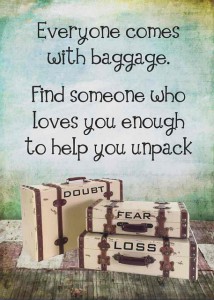 I saw this image on facebook last week, and for me it sums up the reason human beings don't come with "facts" sheets. Knowing a personal history requires much more than knowing strictly what happened. Moving, illness, weight gain/loss, changing jobs can all mean much more than appears on the surface, and one of the biggest mistakes in relationships can be thinking you have someone all figured out. Unpacking our own baggage can be more than enough work for most people, and even that is so daunting it is often pushed aside as we simply try to move on with our lives. Delving into personal baggage with someone else is a task not to be taken lightly, and certainly not with a simple check list of past owners, mileage and accidents.