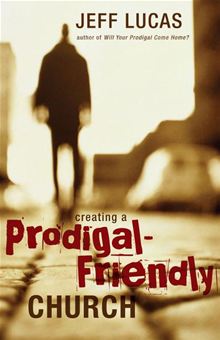 A few weeks ago I found this book on our bookshelf and decided to give it a read. Am I ever glad that I did! Jeff Lucas has created a great guide-book for Christians and churches who want to live out God's grace for lost people. Following the illustration of a piece of music, and writing through the lens of the parable of the prodigal son, this book explores the many facets that come into play when churches truly become sanctuaries for people who may have walked away or rejected God before.
I appreciate that the author is neither preachy nor romantic in his views: he insists that churches should be prodigal-friendly because God is prodigal friendly. None of us has come to where we are without grace, and part of the beauty of God's kingdom is that he uses broken instruments to play beautiful music. However, he does not gloss over the challenges churches face by being truly welcoming to outsiders, new people, and not forgetting about the longstanding members who have invested themselves over time. He gives practical advice for church leaders and offers some troubleshooting to avoid common pitfalls, but this is not a manual on how to grow your church or attract disenfranchised nonbelievers. Lucas uses examples of real-life prodigals, real-life older brothers, and stories of churches who have managed to resolve the inevitable conflicts that come from being prodigal-friendly.
For me as a Christian, this was an eye-opening book that caused me to check my own heart and attitudes about who church is for, how it should look, and what it means to participate as a member of God's mission to reach the world.