I have been meaning to post this recipe for a while since it was a delicious make-ahead breakfast and would be a tasty snack as well. The quiches are lined with meat instead of pastry, so it is low-carb and very flavorful. I modified this recipe and was happy with the results, although it is extremely flexible and could be modified according to whatever ingredients you have on hand.
To start, I sauteed half a cup each of minced onion and mushrooms in about a tablespoon of butter.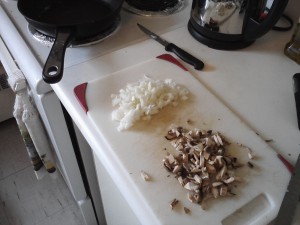 While that was going, I whisked 6 eggs, some cream and a half cup of chopped spinach.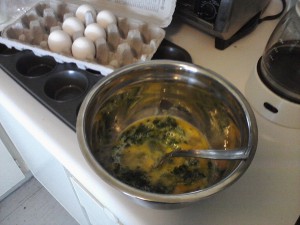 I greased the muffin tin then lined each hole with a slice of ham. The package I used had ten slices, and that ended up being a perfect amount!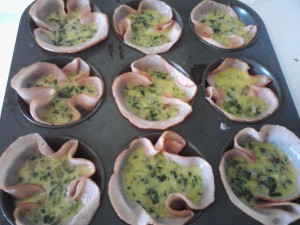 I added the onion and mushroom to my eggs and poured the mixture into the muffin tin. The original recipe called for grated cheese, which I forgot, so I topped each quiche with a slice of cheddar before I cooked them.
I put them in the oven, which was preheated to 375 F, and baked them for 18 minutes.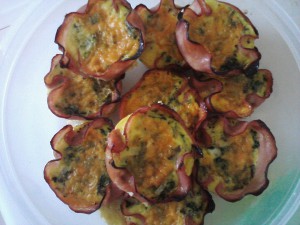 They were deeelicious.
I ate them cold out of the fridge, while Matt preferred his heated up in the microwave. If you wanted to carb it up, I'm sure these quiches would make tasty breakfast sandwiches simply by eating them in an english muffin. They would also be tasty with tomato or red pepper, and you could easily make them lactose-free by omitting the cream and cheese. Really, the options are endless, and I'm looking forward to playing around with the recipe