It is Thanksgiving weekend here in Canada. I woke up this morning with the same anticipation I feel about Christmas: one more sleep until our big family meal! But it is not just the calendar that has me thinking about gratitude – I have been a little bit haunted by the topic for the last month or so, ever since the blessing for a meal knocked my socks off.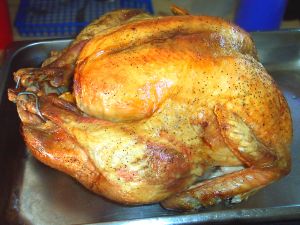 Matt and I were having lunch with a friend/mentor of his, and it was only a last-minute thing that I was even there, but obviously God wasn't going to let it go to waste! As we bowed our heads over takeout salad, our friend prayed, "Heavenly Father, thank you for calling us to ministry…"
I'm sure he blessed the food as well, but that is not what has echoed in my mind and heart for weeks. I was stopped cold and convicted and confused because I don't think I've ever thanked God for calling me or my family into ministry. I always figured it was one of those things where God asks you to do something and you agree, and then you're partners, and you feel good about "answering the call," and sometimes it's hard but you get through it. October is pastor appreciation month, so sometimes that is a special time to reflect on what it means to be in ministry. Our church actually does a pretty great job of appreciating us throughout the year, not necessarily waiting for an occasion or making a big show of thanks, so October is more just four weeks of trying to figure out what we are going to do about Halloween. Just kidding! We are looking forward to a big congregational lunch at the end of the month, so as far as I know no one is stressing about Halloween.
I feel like being a pastor's wife has been easier for me than it could have since I grew up a pastor's kid, and I also know that the kind of pastor and husband Matt is makes my life basically as great as possible. He doesn't expect me to fit anyone's mould or take on any responsibilities that I don't feel comfortable with. Especially now that we have a baby, I have been blown away by how supportive and accommodating he has been about me stepping back in some areas of involvement so I can be a mom and also how he has stepped up to take care of Torre so I can also be involved in some activities not as a mom but just as myself. These are all things I'm grateful for, and I know I've thanked God for these aspects of being in ministry, but when it comes to being in ministry I know I have not said thanks nearly as many times as I've rolled my eyes or been passive aggressive to Matt about going to church early and/or staying late and/or him not making it home when he thought he would because someone needed something.
I was reading in Luke 17 last night, and Jesus' teaching in verses 7-10 kind of tie my thoughts all together for me:
"Will any one of you who has a servant plowing or keeping sheep say to him when he has come in from the field, 'Come at once and recline at table'? Will he not rather say to him, 'Prepare supper for me, and dress properly, and serve me while I eat and drink, and afterward you will eat and drink'? Does he thank the servant because he did what was commanded? So you also, when you have done all that you were commanded, say, 'We are unworthy servants; we have only done what was our duty.'"
This can be a hard passage because it's easy to take the wrong way, like God's a jerk who bosses us around all day and then when we're tired he says "clean up and feed me first, then you can take a break." For me though, it helps fix my perspective when I am feeling sorry for myself in ministry, or as a mom, or just as a human being having a rough day. I should be grateful that God uses me, that I don't feel like a dusty ornament on the shelf who puts in time on Sunday mornings and hopes that one day I'll have a purpose. I can be grateful to juggle the needs of a baby, a house, a husband and my own soul, because this life is preparation for a great feast with God, and when the time comes to put up my feet I will be proud of the work that I did. Not only that, but this life is treating me really well, so I have even less reason to complain.
I'm sure this passage also resonates with many people who will spend an entire day or longer preparing for their Thanksgiving (or Christmas or Easter, whathaveyou) meal, to imagine being told after working all day that you don't get to eat until the meal is served, the leftovers are packed away, and the dishes are washed – that would be unbearable! I don't think that's the point Jesus is making though, that he's letting the disciples know they will be underappreciated. Instead I think he is teaching his disciples not to focus on what they have done, but the reason they're doing any work at all.
When I was in University, I wrote a note in my Bible at the end of Colossians about 3:23-24 – Whatever you do, work heartily, as for the Lord and not for men, knowing that from the Lord you will receive the inheritance as your reward. You are serving the Lord Christ. God rewards us as heirs, family, children, I wrote. He is not just another employer paying us a wage. If we worked for a wage, we could expect earthly blessings, but since God gives us a spiritual inheritance, our need for earthly blessings is surpassed. Heavenly security eclipses the need for earthly security.
Earthly security is nice, don't get me wrong. We can't buy groceries on credit for our spiritual destiny. In ministry we serve God, and not everybody gets an earthly paycheque for what they do unto the Lord (although when there are paycheques, churches definitely have responsibilities as employers). My husband gets a paycheque for what he does, and I do not, but I believe we are both called to ministry and this year I am happy to say that I'm grateful for it.