If you remember my first experiment with Project 333, I have been living with that wardrobe for over 3 months. and to be honest it gradually grew by a few items over the summer. However, it also gave me the willpower to resist buying more than a few sundresses because I was so aware of the pretty dresses I already owned and didn't wear very often. This project was also a lifesaver back in June when I travelled to the West coast for a month – packing and unpacking was so much easier than it would have been with more choices. I learned that I have all the clothes I need, and I got a better sense of what clothes I actually like to wear, versus the clothes I like the idea of but never take out of the closet.
With that said, many of the tank tops I wear the most are very worn and will need to be replaced for next Summer. Some of them have been around for 8 or 9 years and are faded, stretched, and some even have holes. They have served their time, and I am at peace with throwing them out. I'm excited to pick through Summer clearance racks with the purpose of replacing them (and not getting sucked into buying 10 because they're cheap!). I think doing this project helps me be a better shopper because it gives me a better sense of what I want and need, so I'm not as overwhelmed by tables and racks of clothes in stores. We'll see how it goes once I actually shop!
But first, the weather is starting to change, and I am ready for a new round of wardrobe streamlining! About a month ago, I went through the suitcase of summer clothes I packed away and decided to give away about half of those. It was a much easier decision after I realized I had not missed anything for the whole Summer, and to be honest I don't even remember what I got rid of. Lots of tank tops I think? I finally found the time and motivation to haul out my clothes storage totes and re-sort my winter/maternity/didn't make the cut this summer clothes, choose a wardrobe for the next 3 (or more!) months, and donate clothes I know I won't be rotating back into my wardrobe.
The wardrobe: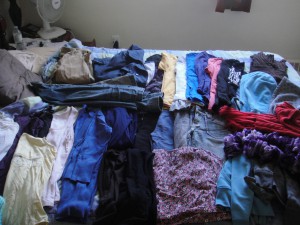 3 jackets, 2 scarves, 6 sweaters, 7 shirts, 5 tank tops, 1 skirt, 2 tights, 2 jeans, 1 dress pants, 1 sweat pants
Yes this is 30 items and I could technically choose 3 more. That's no reason to hoard clothes I don't love though, so I'm leaving the wiggle room to fill as I see fit

Donated: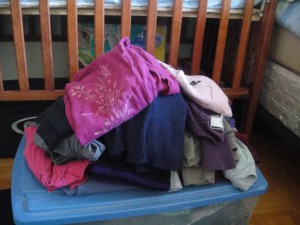 8 shirts, 6 sweaters, 1 pair jeans, 1 swim suit, 1 pair leggings, 1 night gown
This round of decluttering was a big step for me because the clothes I got rid of are all still wearable, but I just don't wear them. The fit might be not quite right, or the style isn't what I choose to wear any more, or they simply aren't age-appropriate any more (I have bought hardly any new clothes since graduating from university, and many items are left over from high school). I'm glad to have them out of my closet where they sit stored to hopefully be used and enjoyed by someone else.
My current wardrobe fits easily in my half of the closet, and my stored clothes only fill two totes. I love knowing where everything is, and I'm looking forward to how easy it will be to change my wardrobe over in future seasons!