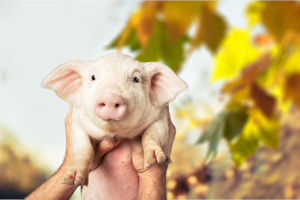 An elderly rabbi, having just retired from his duties in the congregation, finally decided to fulfill his lifelong fantasy to taste pork.
He went to a hotel in the Catskills in the off-season, entered the empty dining hall and sat down at a table in the far corner. The waiter arrived, and the rabbi ordered roast suckling pig.
As the rabbi was waiting, struggling with his conscience, a family from his congregation walked in! They immediately saw the rabbi and, since no one should eat alone, they joined him. Shocked, the rabbi began to sweat.
Eventually, the waiter arrived with a huge domed platter. He lifted the lid to reveal nothing else but roast suckling pig.
"This place is amazing!" cries the rabbi. "You order a baked apple, and look what you get!"