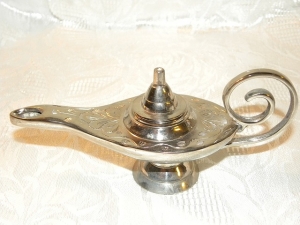 A fellow was given a dirty old lamp for his birthday. He cleaned it up and POOF!--out popped a genie!
The genie said, "I shall give you three wishes. You may have anything you like."
The guy thought for a minute and said, "I would like a billion dollars."
"You shall have it," said the genie and he granted him the wish. "Anything else?"
The guy thought for a while and said, "I would like a VW Bug with A/C, power locks, power windows, an incredible radio, you know - and all the works!"
"Your wish is my command" said the genie, making the dream car appear. "What is your last wish?"
"Hmmm. I think I'll save it for a rainy day" answered the birthday boy.
"OK, suit yourself," replied the genie. "I'll wait and listen, ready to answer."
The happy guy got in his new car and drove off to show all his friends. As he turned on the radio, a familiar commercial came on and he began to sing along, "I wish I was an Oscar Meyer Wiener."