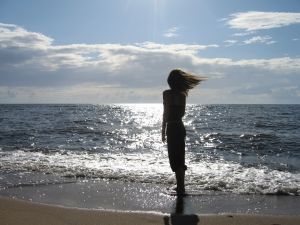 God has worked such amazing miracles in my life over these last 14 months that I can't keep quiet regarding His goodness and His love.  Every time I go out for coffee with a girlfriend conversation eventually comes around to life, and I spill the freedom and the beauty every time, because I want everyone to know and because I can't keep it quiet.  It's too good; and it's completely available to every one of His children.
The fabulous thing is that now I can see hope spreading – hope that life can be different.  You see, I have spent many years as a child of the King yet captive, and now I'm experiencing freedom!  And there are so many others – others who have come to know Jesus as their Savior, who are free from the burden of their sin because they've accepted God's gift of salvation offered through Jesus' sacrifice at Calvary and resurrection from the dead 3 days later – and yet they are captive to anger, depression, food, fear and any one of a thousand other things.  Maybe you are like I was:  clearly stuck in life and absolutely unable to get unstuck.
Well, let me shout it from the mountaintop (or in this case, the web); "It is for freedom that Christ has set us free!"  For more than a year now I've seen that it's completely true, and it can absolutely be your experience too.  The second part of that verse is also completely true; "Stand firm, then, and do not let yourselves be burdened again by a yoke of slavery."  I'm very familiar with a yoke of slavery, although I didn't recognize it as that.  I just knew I was stuck, and from what I read in God's Word, I knew life wasn't supposed to be like that.
And so I'm going to blog – tell the story
of God bringing freedom to His child
of adventure in life today as God continues to show areas of life where there can be freedom (there's been a new one again this past month!)
share the journey so that others can see a captive set free and begin their own journey of freedom, no longer stuck in the too familiar places of darkness, broken-heartedness, and captivity.
"They [all who have been comforted,  helped and provided for by the Savior] will be called oaks of righteousness, a planting of the LORD for the display of his splendor.  Isaiah 61:3
Simply Susan