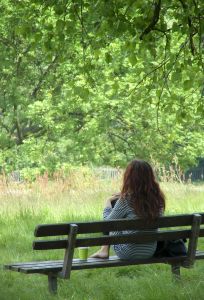 I wonder how many of you were completely skeptical as you read through the previous two blogs.  I think I would have been.  I would have had a total disconnect I think.  Perhaps it's society, perhaps it's life beating us down over the years, but I've seen it in my own experience and can completely understand when I see it in so many friends – our instinctive reaction in life is to take care of ourselves, to watch out for ourselves, to put up walls to protect ourselves.  It's completely understandable and even commendable in terms of being strong.  Yet that is not God's way…
I recently read a work of fiction, "And the Shofar Blew" by one of my favorite authors, Francine Rivers.  One of the characters is a pastor's wife who "submits" to her husband as he basically abandons his family in his pursuit of growing a church – all for God's glory of course.  It's a great illustration of submission being completely misused and abused by a husband.  This is not what God is calling anyone to.  So what is our Heavenly Father asking of us when He asks us to submit?  I'm not certain I can verbalize it succinctly yet… I know it's primarily in the attitude of my heart.
As women, we often have a sense of health in relationships.  Even if we can't quite put our finger on it, we have a keen sense of whether something is right or not.  I'm putting the kids to bed by myself again tonight?  Is the meeting really more important than ____?  Another TV program and I'm shut out?  We are here together, yet I am here alone.  I can almost hear some men countering, "We're both called to sacrifice.  I've had a long day too, you know.  Do you think we want to be at another meeting, or counsel that couple again??"  Fair enough.
So then, where is the beauty of a healthy marriage – the health that can energize both husband and wife to do what they are each called sacrificially to do?  There is too much of the shriveled, anemic, life-draining, barren existence for people who can rightfully call themselves "Children of the Living God."  Where are the marriages that reflect the beauty of Jesus and His Bride, the Church? I've wondered in recent months if the balance of loving a wife and being involved in something important in life is as difficult for husbands as submission is for wives.  Perhaps a man or two reading this would be willing to share his perspective.
I have two good friends who have been on a similar journey in their relationship with their husbands and Almighty God.  Jenny* struggled with submitting as much as I did, and was very articulate in her questions.  "Why am I less valuable to God?"  "What makes me inferior to my husband?"  "Does God love me less than Ray*?"  I tried to remind her that Jesus submitted to His Father, and He certainly wasn't intrinsically less in any way.  I told her that we aren't less valuable or inferior in any way to our husbands.  I even wondered aloud whether we may actually be more valuable or better since God never said of a woman, "It's not good for her to be alone,"  almost as if we would be fine without a man.  [Don't quote me on that.   I don't necessarily believe it; it's just one of my many musings…]  I tried to remind her that God's love for us is in no way affected by whether we choose to obey Him on this one or not – it's our own blessing that is affected anytime we choose to disobey.  Mostly I wanted her and her husband to experience the same blessing and freedom that Tim and I have.  I was excited to see what God's blessing would look like in their situation.
In just the last few weeks, both of these good friends chose to submit and have been amazed by the simple pleasure they've seen present in their husbands.  One recounted a trip to a building supply store.  They didn't even buy anything! Yet to see the pure enjoyment on her husbands face was unexpected blessing for her too.  Their circumstances in marriage are different than mine, yet they have both been surprised by joy, pleasure, and health that have come into their marriages by simply choosing to obey God's call for them to submit.  Mind boggling, isn't it?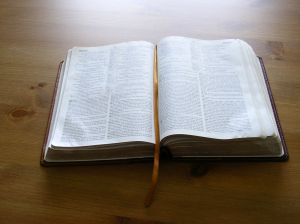 Recently in my Bible reading I saw that David knew this same principle of obedience and clearly wanted nothing more than for  his son Solomon to 'get it' before he handed over the kingdom to him.  I can hear the passion in his plea as he declares, "May God also give you discernment and understanding when he puts you in charge of Israel so that you will rule in reverent obedience under God's Revelation. That's what will make you successful, following the directions and doing the things that God commanded Moses for Israel. Courage! Take charge! Don't be timid; don't hold back." 1 Later God Himself confirms the blessing of obedience when He asserts, "I will guarantee that [Solomon's] kingdom will last if he continues to be as strong-minded in doing what I command and carrying out my decisions as he is doing now."2
Obedience is crucial to living well, whether you are a king or a wife or a husband.  I pray I always remember as clearly as I understand it now, God is the Author of Life.  He knows the right things, the right ways, and there is no guarantee they will ever make a lick of sense to us from our perspective.  The beauty of Him being God though is that He is completely trustworthy, absolutely faithful, and will absolutely never, certainly not, by no means, not at all leave us or abandon us.3 He is the Everlasting God; He is a Refuge for all who trust in Him, and underneath…?  Well, underneath are the everlasting arms.4
If any of you decide to simply obey Him on this one [against all your better judgment], and then find yourself astounded by the beauty He brings into your marriage, I would love to hear about it!  He is the same Strong God for you as He is for me.  As Chris Tomlin so aptly sings:
There is an endless song echoes in my soul; I hear the music ring.
And though the storms may come I am holding on; to the rock I cling.
How can I keep from singing Your praise
How can I ever say enough
How amazing is Your love
How can I keep from shouting Your name
I know I am loved by the King
And it makes my heart want to sing5
You are loved! He is trustworthy!  Enjoy the beauty He brings as you simply obey.
Simply Susan
* Not her real name
11 Chronicles 22:12, 13
21 Chronicles 28:7
3Hebrews 13:5
4Deuteronomy 33:27