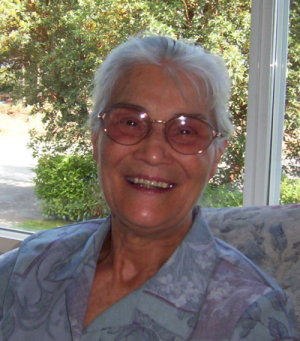 Those of you who get the Cybersalt Digest regularly already know that my Mom died November 12th. My thoughts have been fragmented and scattered, so today I'll just tell you about that day and save my thoughts about it for another post.
If you've been reading my blog for long, you will know that my relationship with Mom has never been particularly close. I've spent most of our mother/daughter years knowing I couldn't measure up and feeling in the way. During the "Breaking Free" Bible study that changed my life so dramatically, I was faced with the truth that I couldn't "bless" mom:

"There are those who curse their fathers
and do not bless their mothers…" [Proverbs 30:11]
So, realizing that God's precepts always bring life, I pursued this broken thread in my past until I could truly bless her from my heart. It was a difficult process, but it brought me to a place of life and love for her in my heart and these last 33 months or so have been significantly changed for good as a result.
Ironically Mom had more than one stroke right after that consequential time and we never had the opportunity to talk through our past or the discoveries of the heart I had made during my journey to "bless" her.
On a Thursday my sister called to say that Mom was rapidly declining and the doctor didn't think she would make it through the weekend. I began to make tentative plans to see her Saturday. It's a 2½ hour drive so completely doable to go up and back the same day to be home again for Sunday (Tim's a pastor, you know… this is how I think!) Saturday morning we received another phone call to say this would probably be the day.
I have a 3 hour piano accompanying job Saturday mornings and didn't feel that I could leave them high and dry, so I went to Sooke. I cried as I drove and took comfort in the fact that although I was still 2½ hours away, God was right there with Mom on this final journey she was making. I prayed she would be aware of His presence and not be fearful or in too much pain.
Later Tim and I, two of our children and the ones they love piled in our van and we were off to Port Alberni. By 4:30 we were walking into her room. Six family members were there. It's not a large room so 5 of them left shortly after we arrived to get something together for supper and to get a bit of a break after being there (some of them) since about 8:00 that morning. Mom never opened her eyes; her breathing was rapid and loud for about 90 seconds (the nurses called it "galloping") and then quiet and calm for about 90 seconds.
I've never been with someone as they were dying before, but Tim has several times, so I wondered if he could tell where we were in the process. Our son, Clayton, had decided within about 10 minutes that he wanted to stay no matter how long it was – I was still thinking I wanted to leave by 10:00pm to be home in good time for church the next day. I figured Mom would probably hang on until Sunday or Monday.
I sat in the nearest chair to hold Mom's hand and touch her hair and forehead. I wanted her to know that she was loved. I couldn't tell if she knew we were there – she was clearly occupied by whatever was going on in her spirit/soul much more than what was happening in her room. She coughed (my sister Donna told us before she left that mom would cough, so she had sometimes raised the bed a little for her), but seemed to settle quickly so I didn't adjust the bed.
The 7 of us kept chatting. Clayton asked if Grandma was OK, and I looked to see her lying calmly. Moments later Tim asked if she was still breathing and I said a quick "yes" thinking it was one of those quiet calm periods in between the rapid breathing. But I watched from that time on and didn't notice distinct breaths. I moved my hand to her wrist where her pulse should be, and waited. There was nothing. It seems that as we chatted and watched, mom slipped away quietly without us realizing it. The nurse came to check; another nurse came too; there were stethoscopes and flashlights and the 7 of us waited quietly.
I looked around the room at that point – my daughter and her long-time boyfriend, my son and his wife, one of my sisters, and the man I love – all there, all experiencing this moment together. What a gift! The time was 5:37. We had been there an hour.
I realized in that moment that as ugly and awful as death is, there is a distinct holiness as someone moves from this life to another. That will forever be a sacred moment for me.
It was also distinctly clear that although we were there with Mom, she was on a journey alone with God. No wonder it's imperative to have a relationship with God through Jesus Christ – when all is stripped away it's just us and Him. What a legacy to know Him today!
"But you are my witnesses." God's Decree. "You're my handpicked servant so that you'll come to know and trust me, understand both that I am and who I am. Previous to me there was no such thing as a god, nor will there be after me. I, yes I, am God. I'm the only Savior there is…" The Bible
Simply Susan