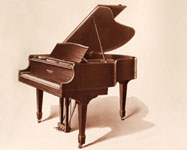 They say that one of the main things about writing is to simply be disciplined about doing it. Clearly I'm not a writer at heart; although I have been challenged with the concept of discipline lately - so maybe you'll see more regular writing in the future. It's not for lack of material that I haven't posted anything recently, so I'll at least try to catch up with some of the stories of life over the remainder of the summer.
Some of you may remember the abundance of blessing I experienced last summer with regards to grand pianos. (Writing that in the plural still sounds incredulous!) Last July God worked out a number of circumstances that made it possible for me to buy my own grand piano - which is still a dream come true that I enjoy every day. Within weeks of that, our small church was chosen as the site for a satellite school of our local Conservatory of Music, and they brought in a 1929 Heintzman grand to teach on, and for us as a congregation to use as we needed.
This past year as a church family we've been blessed with a gorgeous sounding instrument to use in our worship on Sunday mornings, and I've been blessed with a larger venue and excellent instrument to use for my piano student recitals during the year. There is no question in my mind - God is good!
Then along comes April. We get word from the Conservatory that their student numbers didn't amount to what they hoped for, and they will not be renewing their contract with us to operate a satellite school from our church. Tim immediately offered to "store" the piano for them since we knew it had been in storage before it came to Westside, but they declined saying they could use it somewhere else.
So there goes the Heintzman grand. "He gives and takes away."
So far, the piano is still at the church. They may wait until September to move it out when their fall programs start up again; but we know that it will be leaving. As a church family, we have no money in our budget to purchase a comparable instrument so we have begun a special fund to start saving up for something - but that may take years. And now we find ourselves asking questions like, "Will we settle for a mediocre instrument if we can get it for free or a low price?" "Lots of churches use electronic instruments - should we?" "Will God miraculously provide another beautiful instrument so we can worship Him with beautiful sounds?"
At this point we have no clear answers. I'm waiting for God to do whatever it is that He's going to do. And while I wait, I'm trusting with a happy heart that whatever He does, it will be good. It's actually kind of fun for me; after so many years of waiting with anxiety, or waiting with skeptical concern, this is so completely different, and so much better in my heart.

"You never saw him, yet you love him. You still don't see him, yet you trust him-with laughter and singing." This is a new heart attitude for me; but I have to say I love it. I can hardly wait to tell you how this part of the story ends.
And I still have to say, there is no question in my mind - God is good!
Simply Susan