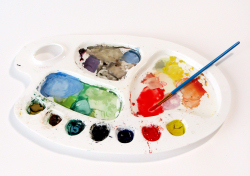 Before hiring someone to help develop a new web site with you or for you (or help on an existing site), you probably want to see the other projects they have worked on. Here are some of the sites Cybersalt has designed for real people and businesses and some existing sites we've been hired to help with.
Please keep in mind that one of Cybersalt's major goals is designing sites that people are able to use and maintain themselves. Consequently, our clients don't always organize their site content the same we might had they been hiring us to both build and manage their sites.
We're always available to help when it's needed, but we also realize for some the enjoyment of a web page is figuring it out along the way. For those people we love to cheer from the sidelines.
---
Westshore Food Bank
The Westshore Food Bank was looking for a static web site that contained and presented the basic information contained in a brochure they supplied at the beginning of the project. The colours and layout of the site are bright, cheery, and "vegetably".
www.islandnet.com/~foodbank
Clyde Snobelen Landscaping
Clyde Snobelen Landscaping had and existing web site that they were quite restricted in making changes and additions to themselves. I redesigned their site and transferred their existing content so that they could take control of their content and updating as they wished. This project also involved some manipulation of the supplied logos graphic so that the new site fit in with the existing branding of the company.
www.csll.ca
Heritage Garden Tours
Heritage Garden Tours was about to be featured in a major newspaper when they called hoping a basic site could be up and running before the publication date. I took this project and the deadline was met. Afterwards, further development was put into the site and after some one on one training the very capable and able bodied senior who runs this business is able to continue to add and manage the content they want on their site.
www.heritagegardentours.ca
Mark Zuehlke
Mark Zuehlke is an author. When he called wanting to have his latest books added to his existing, years old web site I pointed out that for a little bit more he could have a completely redesigned site that he himself could access. He liked the sound of that and went for it. I built him a new site, transferred over his content from the new site and added his new books. After a few hours of instruction he is now able to add updates to his site as he travels Europe researching his next project.
www.zuehlke.ca
Frances Backhouse
Frances Backhouse is an author as well. She had a front row seat during the redesign process of Mark Zuehlke's web site. When it came time to add her latest book she too wanted her site redone. When all was said and done she shared this kind comment,
"Thanks for all your work on my web site. You really captured what I was looking for in terms of the new design and I love the fact that I can now manage the content . . ."
Ann Eriksson
Ann Eriksson is a friend of Frances Backhouse. Ann heard of the redesign work I had done for Frances and for Mark Zuehlke and contacted me when she was ready to add a new book to her website (now a reoccuring theme for the author sites I have worked on).
Ann's situation was a bit different because her existing site was - without going into too many details that weren't Ann's fault anyway - lost in an internet limbo due to an unreachable web designer who had the passwords for accessing her site to make changes. I used a few tricks to rescue her content and built her a site she can now work on herself . Plus, as with all the sites I build, I have things set up so Ann isn't up the web creek if something happens to me.
www.anneriksson.ca
Josh Reaume
Josh Reaume is a young race car driver from Victoria, BC, Canada. He is currently in Ron Sutton's NASCAR Career Development Program. Josh has put a lot of work into the site we made for him. It has been a great platform for presenting his pictures, videos, and audio recordings as he meets with potential sponsors.
www.joshreaume.com
The Fish Guys
The Fish Guys maintain some pretty serious quariums and commercial life food tanks. They wanted a site that would give them a presence online and in the search engines. Here it is.
www.thefishguys.ca
Colin Godbout
Colin Godbout is a gifted musical artist who was struggling with getting the site he envisioned in his head on to the web. I helped Colin find the look he was seeking for and then helped him add the information, graphics, and photos the way he wanted them to be. This was very much a collaborative effort as I managed the technical things that arose and were beyond his web page skills, while still standing back as he organized the site as he wanted.
www.colingodbout.com
Snore No More
Bill and Joan Wolf are a real-life married couple selling a great product that has helped many stop snoring. When I met with them to make plans for their site, Joan's story of how they began to use and then sell their product was so wonderful and sincere that I encouraged them to let me film it and include it on their site.
www.snorenomore.ca
Even More . . .
There are always a number of sites we have recently finished but are not yet online because our clients have a bit of tweaking they want to do to their part. Some of them won't mind if we give you a sneak peek so if you would like to see more contact us and we'll point you to a few of them.