Unless you are part of an arranged marriage, .. DATING is the recognized 'process' of finding Mr or Mrs Right in our culture.

I believe the top 5 factors to consider in dating are 1. Looks, 2. sense of humor, 3. personality, 4. family, and 5. money All these and more are reasons we choose to date.. and maybe eventually marry.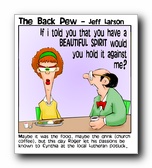 WHERE TO LOOK FOR LOVE, AND WHAT TO SAY?

"What's your major?" is a classic breaking the ice lines for the college crowd, but in the Back Pew we are ike E-Harmony with an added spiritual dimension.
We don't look for a future spouse in a singles bar, but more likely at a Church Potluck with pick up lines like.. "If I said you have a Beautiful Spirit would you hold it against me?".
Or maybe Mr. Right, or that Woman (or women?) of your dreams you will meet at a Bible Study, Babes in Christ, and Fishers of Men fo-sho.
But while we may be more spiritual in the Back Pew, we still find looks are important and support the time honored scale of tenmethod in measuring looks.


Dating is NOT a bed of roses!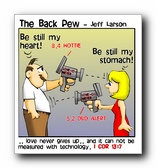 but instead there comes a time when you realize.. he or she is not perfect resulting in awkward moments and harsh words. You may even find out fromlittle birds that besides not being the right guy, he is simply a jerk.
The Next important part of dating is The KISS..
While we have all heard about the dangers of kiss and tell, well I would like to say kiss & click is not the proper focus for a tender moment such as a kiss.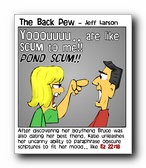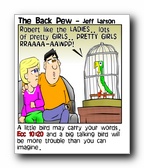 The anxious anticipation of the first kiss is common, where sometimes advances are welcomed in the 'lip arena' while other times.. we find REJECTION.
So I recommend being a bit coy in that first move.. maybe even bring scripture into your lip offering with the ol' greet each other with a HOLY KISS move.
In the end, rest assured she will be drawn to you because you are a manly man!
If this fails there is always Christmas where under the power of the MISTLETOE two may be drawn to that first kiss.
Of course there is so much more to dating. We have the movies, the popcorn, the romantic picnic dates on sunny summer days, and so much more... but .. I am a cartoonist.. if you want sappy romantic sentiments GET A HALLMARK CARD... but if you want a chuckle at the romance dance we call dating, then THE BACK PEW might be the place to go before you Say I DO, or at least say maybe