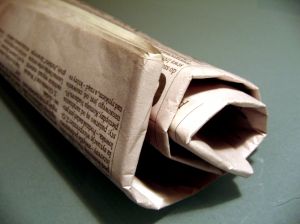 John, a neighbor of mine, was annoyed because he had to search for his newspaper each morning after the paperboy tossed it. Often he would find it, covered with dirt, under the car in the gravel driveway. Then one-day the paperboy's mother mentioned that her son's ambition was to play professional basketball. John had an idea.
When he got home, he attached a basketball hoop to a post on the front porch. Sure enough, the next morning there was a resounding "plunk" as the newspaper sailed through the hoop and landed by the door.
John never had to search for his paper again.