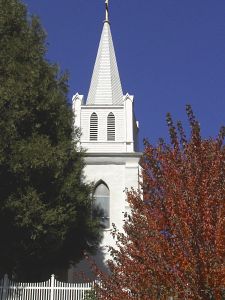 Many of you now know the reason behind the quietness of my blog recently – my mind had been completely hijacked by the message I delivered on Sunday October 24. I'm so thankful God didn't call me to be a preacher!
Tim has been preaching through Colossians recently and told me back in August that he thought it would be a good idea if I were to speak on "wives, submit to your husbands as is fitting in the Lord." My first thought was, "You've got to be kidding!" Really, he jokes alot all through the day. Then when I realized he was serious I thought, "You've got to be kidding, Father! You want me?? to preach??" Tim knows I don't like things sprung on me at the last minute so he figured he'd give me a few weeks to prepare… he didn't realize at the time that it would be 2 months before it happened.
So I prepared the gist of it, and then imagined myself quaking at the front of our church more times than I can count – I don't think 300 times is an exaggeration – delivering parts or all of it. Really. I'd fall asleep at night somewhere in the middle of the discourse, and wake up beginning the whole thing again. Driving, shopping, tidying the house and anything else I was doing – all with the background chatter of trying different parts of the story in my head. It was exhausting! The challenge for me was in knowing what to keep and what to cut. If I could have kept everybody for three hours it wouldn't have been nearly so stressful – just tell them the whole story.
Thankfully, it's all behind me now and by God's grace people have said it has been a blessing to them or helpful in some way. I'm glad for that. If you haven't heard it yet, you can listen by clicking here.
After these few weeks of my mind being taken completely captive by the thought of speaking to our church family on a Sunday morning, I find I have a whole new perspective on the words: "and we take captive every thought to make it obedient to Christ." [~found in 2 Corinthians 10:5] This must take some kind of mental strength to be able to take our thoughts captive rather than the other way around. I was definitely at the mercy of my thoughts these last few weeks and I noticed a few areas of life suffering for it. I spent so much time imagining the future that more than a few times I missed out on the present.
Tim and I both noticed my significant struggle with submission on October 2nd. I understand it's not uncommon to experience a spiritual or physical struggle with something you're preaching on… very concrete evidence for me as to why we need to be faithful in praying for our pastors!
Anyway, now that I have my thoughts back again there should be a little more frequency to my posts. God bless you my friends!
Simply Susan