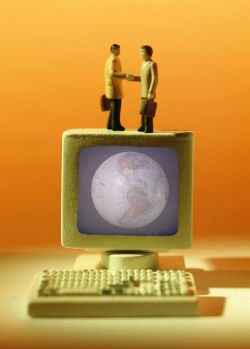 If you are looking for an online solution for your ministry, business or personal needs, look no further!
In September of 1998, I (Pastor Tim) started Cybersalt as a hobby and investigation into ministry tools on the internet.  Since then the Cybersalt sites have been visited more than 17 million times for a combined 79 million page views.  In fact Alexa.com ranks cybersalt.org in the top 1% of all web sites in the world for traffic!  Along the way I have developed the knowledge and skills necessary to help others begin, develop, and grow their online endeavors in pursuit of their goals. I hope you will read on and see if there is some area that I can be of help to you.
But first, let me answer a question that many are curious about: "Am I really a pastor?"  Yes, I am.  I pastor at Westside Bible Church in Victoria, BC, Canada.  The money I make through my web activities has allowed me to keep my salary down at our church so other areas of ministry could grow. So, the "pastor" part is not a gimic; rather it is a bonifide bonus.  When you deal with Cybersalt you can expect all of the integrity, honesty, kindness and gentleness you should expect from a pastor.
Web Hosting
Cybersalt does not operate it's own servers.  We resell web hosting on Islandnet.com - the same company all Cybersalt sites run on.  Islandnet.com is a web hosting company owned by 2 brothers in Victoria, BC, Canada.  One of the brothers, Steve, is a member of my church and plays the bass in our worship band so I know this company and am confident that their servers are fast, secure, and up 99.9% of the time in their generator-backed climate-controlled data centre.  If you host through Cybersalt you can rest assured knowing your site will be getting the same speed, security and stability I expect of my own sites. For pricing details, click here.
Web Design
Too often people pay someone to design them a web site only to discover that once it is completed they have to keep paying to have it updated because it's beyond them to do so themselves.  Cybersalt builds and designs sites that you can change yourself - after all it's your site so it's only right you can make changes to its content. For pricing details, click here.
Domain Registration
Everybody should have their own domain.  They are essential for ministry and business sites, fun for personal sites and e-mail, and they make great gifts for friends and family members.  They are also inexpensive.  For pricing details, click here.
Web Management
You don't want to manage your site?  No problem.  Pay me to.  For pricing details, click here.
Web Consulting
Do you have an idea for a web site but you're not sure how to proceed?  Do you have an existing site that get's little traffic or doesn't show up in Google? Let me check it out and give you some direction.  For pricing details, click here.
Something Else?
Do you need web help with something not covered above?  Drop me an e-mail and let me know and I'll tell you if I think I can help or not.  For pricing details, click here.