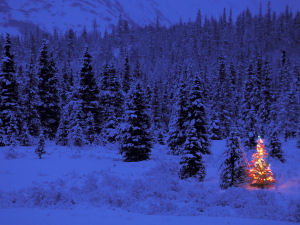 This evening I want to look at the very famous and familiar text "'Twas the Night Before Christmas". What we want to see is that this text is presenting to us a declaration of Santa Claus, and in this declaration there are three movements. There is: first of all, Preparation for the coming of Santa Claus; second of all, There is the coming of Santa Claus; and finally, The description of Santa Claus. So please, listen very carefully as I convey to you how the writer presents this declaration of Santa Claus to us.
'Twas the night before Christmas. Now look what the writer has said here. We are informed right at the very beginning that it was the night before Christmas-a very special holiday. You see, it will not do that this was the night before Thanksgiving, or the night before Dominion Day, or even the night before Mother's Day. No, this was the night before Christmas.
Notice also that the writer has said this was the night before Christmas. It was not a night; it was the night. For instance, it was not one of the twelve nights of Christmas, this was the night before Christmas. Now watch as we continue- When all through the house, not a creature was stirring, not even a mouse.
Now right away the author has let us know this could not be __(wherever_you_are)__ because there are all kinds of mice running around this place. So the writer continues-The stockings were hung by the chimney with care; they'd been worn for two weeks and they needed the air.
No, no, not actually. That does have good manuscript readings, but that is really not the best rendering of the text. Really it says, according to the majority of scholars-The stockings were hung by the chimney with care - now watch - in hope St. Nicholas soon would be there. The children were nestled all snug in there beds, while visions of sugar plums danced in there heads.
Now that's a very meaningful phrase, but perhaps to most of you not as meaningful as it should be, for there is in that statement a word that is perhaps not common to most of you. That word is "nestled". It probably doesn't really communicate as it used to at the time when this was written. During the historical period of the writer, this word had a different meaning altogether than it does in most circles today. You see, this word "nestled" is an old German word, usually seen in connection with chocolate. "Nestled" you know-"nestled chocolate"-which has been corrupted by the Americans to form "Nestles Chocolate". So the idea begins to form it's usually in context with chocolate.
Chocolate usually inferred warmth. If you want to convey that something is colored by an invitingly warm brown, you say that it was a chocolate brown; not chocolate warmth on a very cold evening. So you see, the writer was conveying something very tender-The children were all nestled - all chocolatey warm - all snug in their beds while visions of sugar plums danced in their heads. And that probably gives an idea of the age of the children, for if they were older other things would be dancing through their heads.
Now the writer continues in his information concerning the preparation for Santa's coming. Mama in her kerchief and I in my cap. Mama in her kerchief and I in my cap-now there must be more but that's all that it says, uh uh, uh uh. Had just settled down for a long winter's nap, when out on the lawn there arose such a clatter, I sprang from my bed to see what was the matter. Away to the window I flew like a flash; threw open the shutters, and threw up the sash.
Now here we do have to go to the manuscripts, because this does not really make sense. Modern interpreters have altered the original text in order to avoid certain unpleasant realities. The better manuscripts read this way:
Away to the window I flew like a flash; threw open the shutters, and threw out the hash. The note of breath on the new fallen snow gave a luster of midday to objects below. When what to my wondering eyes should appear, but a miniature sleigh and eight tiny reindeer. There was a little old driver so lively and quick, I knew in a moment it must be St. Nick.
Now you see, we've moved out of the preparation for Santa Claus, and into the coming of St. Nick himself. Notice what the writer says as he keeps things in line with detail. Miniature sleigh-eight tiny reindeer-a little old driver. It would not do to have a miniature sleigh and a huge monstrous muskox; or eight tiny reindeer and a humungous, slobby truck driver. Attention to detail. See how the writer has so beautifully harmonized the detail.
More rapid than angels their courses they flew, he whistled and shouted and called them by name. Isn't that tender. Santa knows each reindeer and calls them by name. Oh, how beautiful. It's not just, "Hey you, out there, get moving" or "Get moving, team." Oh no, he calls each by name. Oh, how beautiful.
Now Dasher, now Dancer, now Prancer and Vixen, On Comet, on Cupid, on Donner, on Blitzen. Better read that again. Now let's get it settled once and for all here tonight-there is no Rudolph. Let's mark that down now, right here tonight; Rudolph is a modernistic fib that has been put into the source, and I'm convinced by the Communists-red nose and all.
But it's Dasher and Dancer and Prancer and Vixen; on Comet, on Cupid, on Donner, on Blitzen. To the top of the porch; to the top of the wall; now dash away, dash away, dash away all. So up on the housetop like horses they flew (now notice the harmony) with a sleigh full of toys, and St. Nicholas too. You don't have the sleigh up here, and Santa down here; no, they're all up there together on the roof-perfect literary harmony.
And then in a twinkling I heard on the roof, the prancing and pawing of each tiny hoof. Now that's when you are glad they're tiny, otherwise there would be roofs caving in all over the place on Christmas Eve. As I drew in my head and was turning around, down the chimney St. Nicholas came with a bound.
Now we have moved through the preparation and coming to perhaps what is the meat of the message-the actual description of Santa Claus himself. Now I want you to listen very carefully in the next few moments, our time is almost gone, but I'm sure you have read this passage many, many times but have missed what is really being said.
He was dressed all in fur from his head to his foot Did you get it? Why does it say "foot"? Why doesn't it say "feet"? Obviously he is dressed in fur to keep warm. He has fur all the way down one side to his foot. But evidently the other side doesn't need fur; it isn't affected by the cold. He has a wooden leg! So the very first thing I want you to see about Santa Claus is that he is a one-legged man.
Second, listen, it says His clothes were all tarnished with ashes and soot He's dirty. He's a dirty, one-legged old man. And they're probably the worst kind. Now listen again.
A bundle of toys he had flung on his back I ask you, what is a grown man doing running around with toys? He's senile. He's a one-legged, dirty old senile man. He looked like a peddler unopening his sack; his eyes how they twinkled, his dimples how merry, his cheeks were like roses, his nose like a cherry.
Now once again, I ask you, why would a man have a red nose? He's been hitting the bottle. During working hours, too. He's a real alcoholic, this guy. The beard on his chin was as white as the snow He's unshaven; probably his hair isn't even combed. But that fact we are not sure of. So we have a one-legged dirty old man who is an alcoholic and hasn't shaved in weeks and plays with toys. But there is unfortunately more.
The stump of a pipe he held tight in his teeth Now what kind of pipe? It could be a lead pipe. But the author goes on to state-And the smoke did encircle his head like a wreath. This alcoholic is smoking. I wonder what he's smoking? We're not told precisely from the text, but I wouldn't put it past this character. Pot-headed old man with a dirty habit showing irresponsibility smoking so close to a Christmas tree.
He had a broad face, and a round little belly that shook when he laughed like a bowl full of jelly. That is just a polite way of saying he was a sloppy, fat, dirty alcoholic. He is chubby and plump, a right jolly old elf; I laughed when I saw him in spite of myself. Well who wouldn't. I mean, if this guy came down your chimney and lands in your rec. room, what would you do? Laugh, or call the men in the white coats.
A wink in his eye--I don't think that's very nice and a twitch of his head, he gave me to know I had nothing to dread. He's not going to hurt you in his condition, so you might as well laugh.
He spoke not a word--antisocial-wouldn't even talk to those around him He went straight to his work--Probably the only decent thing about the man. Filled all the stockings and turned with a jerk.
Now watch the preposition. It's not "turned to a jerk"; that would shed a negative light on the witnessing writer. Rather it says "turned with a jerk". Evidently he has a helper, and this tells you the kind of company Santa keeps. Santa hangs around with a jerk.
And laying a finger the side of his nose (Now I definitely know that's not nice) and giving a nod, up the chimney he rose. He sprang to his sleigh, to his team gave a whistle; away they all flew like the down of a thistle. I heard him exclaim e'er he drew out of sight, "Merry Christmas to all, and to all a good-night."
Now, we must make sure we get the gist of this last expression. There is in the sentence what we refer to in the English language as an "elipsis". There is part of the expression missing and it must be supplied by the reader. "Merry Christmas to all, and to all a good-night." To all what? There is something missing obviously. There is a pronoun missing, so it would have to be, "Merry Christmas to you all, and to you all a good-night" thus once and for all conclusively proving Santa Claus is not from the North Pole; he is from the South Pole.
Thanks to P. Ealy for letting us know this was originally "preached" by Dr. John Caywood of Philadelphia College. We've looked online for a way to contact his family to see if this is a copyrighted work, without success.