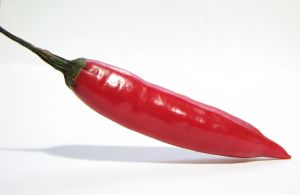 When chopping a hot pepper...
1. Do NOT rub your nose...
and if you do and it starts to burn...
2. DON'T put you finger in your nostril to rub it...
AND IF YOU DO THEN BY ALL MEANS ...
3. DO NOT..."SNORT" WATER UP YOUR NOSE IN AN ATTEMPT TO RINSE THE JUICE
OUT.
Please don't ask me how I know...just *trust me*