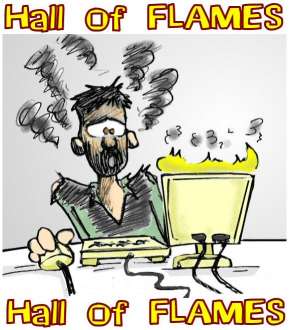 The world (and unfortunately some churches) have many discontented people and spiritual bullies. So when you try to uplift, entertain and encourage people, (and maybe even make them laugh) it only stands to reason that every now and then someone is going to go off the deep end on you. On the internet that deep end usually manifests itself through a vitrious and gall filled e-mail sent so the author can get his/her jollies by blasting you (otherwise known as a "flame").
Here is a collection of some of the more entertaining flames I have received. Don't worry about me. I've been around enough to know that such people come with the territory. Only, my approach is different that most other's. Most usually just get quiet or apologize in order to either placate the flamer and avoid getting burned up totally.
Me, I'd rather have a good laugh at their expense (after all I didn't make them type what they typed) and, in the case where they may attend the church I pastor, tell them to straighten up or go find another church to wreck.
Nobody eats sheep while this shepherd is on duty!