Torre is a week old today, and Matt and I are seven days into parenthood. We ended up having kind of a hellish week, since Matt got food poisoning Monday night, then we both and my dad got the stomach flu. Thankfully Torre stayed healthy, I stayed out of the hospital, and my mom remained healthy enough to take care of us all.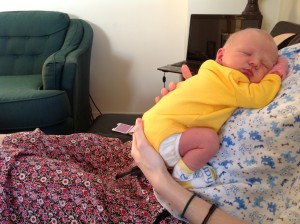 Yesterday we were blessed with an amazing shower by my Auntie Linda and Aunt Laura – we were grateful to be healthy enough to leave the house, and then we were blown away by all of the gifts and love we received! Torre will well dressed for at least the next year and probably even longer, depending how quickly he grows. It was also wonderful to spend time with so many friends and family and for them to meet Torre! He was a champion mellow baby, being passed around and cuddled and loved on with hardly a peep! It was very nice to get him back after opening all the presents though. I worried I would miss being pregnant, feeling kicks and squirms, but holding him on the outside is definitely better

Today I decided to try the wrap/sling I have for Torre, and it was a great success! It's not critical right now because with my parents here there are lots of arms to hold him and extra hands to help around the house (I've done next to nothing for the whole week, it's great!). However, I am glad to know that even when it's just me home with Torre, I can have him close to me and still get some stuff done! It is also nice to finally have regained enough strength that I can support his weight as well as my own.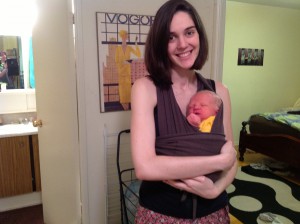 So that is us. Taking things a day at a time and learning as we go, loving it all so far