Moving With God
This is Alyssa Sampson's blog. She is Pastor Tim's daughter.
Details

Written by

Alyssa Davis
There is a popular song out right now called Same Love by Macklemore and Ryan Lewis feat. Mary Lambert. It is a song against homophobia and in support of gay marriage, and it raises some good points: Disagreement is no excuse for hatred, and judging a person or thinking you know them based on one aspect of their beliefs or lifestyle is absolutely...
Details

Written by

Alyssa Davis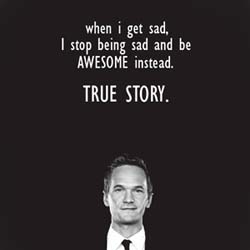 I came across this picture on the internet and decided it was worth sharing. To be fair, when I get sad, I usually stay sad for a while, and I don't think that's a bad thing. Your brain can do some crazy stuff if you make a habit of repressing emotions. But this quote got me thinking, and I was hoping to post today, so here come 3 ways...
Details

Written by

Alyssa Davis
That was the gist of my dad's sermon this morning, which really spoke to me despite the fact that my attention was divided between sermon and baby (I'm always glad when God gets himself through my distraction and confusion). I definitely have the tendency to idealize the future, to think that when certain circumstances come my way or...
Details

Written by

Alyssa Davis
I am technically on vacation, although blogging is not a job, and parenting doesn't really allow for breaks at this stage, so it could just be that I am having a month-long change of scenery. Posts here might be a bit fewer and farther between as I make the most of time with family and soak up the beauty of Canada's west coast

...